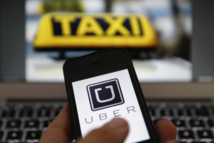 Size infusion is a record for pre-IPO investments in high-tech sector of the US market, the newspaper notes. Neither Google, nor Facebook could not even come close to this level until they came to the open market. The main amount of money has been collected through the sale of the service's stocks and bonds to Uber investors in the last six months.

Last week it became known that Uber agreed with a group of banks to open a credit line in the amount of $ 2 billion. In a pool of credit institutions, that have provided the financial arm to the service, entered Morgan Stanley, Deutsche Bank and Goldman Sachs. Initially, it was expected that the banks will allocate loans in amount of only $ 1 billion to Uber.

The company spends money mainly on the costly expansion of its operations in more than 300 cities around the world. Moreover, it is going to have significant legal costs in connection with the claims adjuster. Uber's directors are also interested in investing in technological innovations, including the self-directed cars.

Officially Uber has not yet disclosed the plans for the IPO, and besides, the company is still looking for a chief financial officer - the person on whom the primary responsibility for this transaction lies.

Uber has 311 locations in 58 countries, including China. The company's clients in Chicago, Los Angeles, New York, Toronto and Barcelona, in addition to the urban transport services, can order delivery of food using UberEats service.

Uber was founded in 2009. Its mobile app allows searching, booking and paying for a taxi, including mediating between private drivers and passengers. In December 2014, the company has attracted an investment of $ 1.2 billion, while its cost is estimated at $ 41 billion.

The company recently announced that drivers and passengers Uber are forbidden to carry firearms in partners' vehicles, even if the owner has a permit to carry. This requirement included in the updated security policies.

The ban was introduced on June 10 due to numerous requests of drivers and passengers, but received a lot of publicity after the shooting in the US Charleston.

As the newspaper Engadget notes, citing the opinion of lawyers, legislation in some US states permit the carrying of firearms, so the introduction of restrictions is likely to be challenged in court.