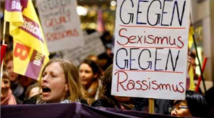 youtube
According to Sommer, a group of tourists from the Erzgebirge (on the border with the Czech Republic) has decided to cancel a trip to Cologne, scheduled for the summer. They explained that "we do not want to risk under these circumstances."

In an interview with the newspaper Kölner Stadt-Anzeiger, Sommer complained that the image of Cologne suffered extensive damage. Sommer said that tourists and organizers of trips are seriously concerned with security issues in the city.

In the heart of Cologne, unknown committed mass attacks, including sexual harassment, on New Year's Eve. Head of the Metropolitan Police Wolfgang Albers said this at a press conference on January 5, reports Die Zeit.

In total, police reported 90 cases of assault, including 15 cases of harassment reported. Also, there was one statement about rape. Unknown also abducted passers' bags, mobile phones and wallets. The attacks took place in the city center near the train station - close to the square in front of Cologne Cathedral were the main festivities were held.

The exact number of attackers is unknown. Police said that there were about a thousand people in a drunken state on the square in the evening. However, some groups of attackers numbered no more than 20 people.

On the New Year's Eve itself, as noted, no one was detained. Statements from the victims began arriving only in the morning on January 1st. According to various estimates, number of suspects range from 40 to hundreds of people. Some victims identified the attackers as immigrants from North Africa.

At the same time, the mayor of Cologne Henriette Reker said that there is no reason to suspect refugees who have arrived in Europe from Africa and Syria in 2015, reports Reuters.

In an interview with Reker, German Chancellor Angela Merkel called for speedy investigation of the incident, regardless of the origin of the perpetrators.

Albers criticized work of the police on the New Year's Eve, saying that the staff were relaxed. He also promised to strengthen the control over public order during the Cologne carnival in February.

January 6, Interior Minister of North Rhine-Westphalia Ralf Jaeger said that the police found three suspects in the case of attacks on the residents of Cologne. The police have not disclosed any further information about them so far. At the same time, the chief of police of Cologne noted that the assailants looked like persons "of Arab or North African" origin.

In turn, the mayor of Cologne Henriette Reker has advised women, who do not want to be subjected to sexual harassment, stay away from strangers "at arm's length." This piece of advice has drawn sharp criticism to Reker, but she later apologized and noted that her words were taken out of context.