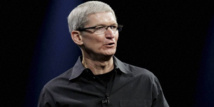 iphonedigital
According to Cook, he had already allocated money for charity, but in his plans, there is something more. The Apple CEO plans "do not just write checks", but to develop a systematic approach to this process.

Cook's net asset value, given its share of Apple, is about $ 120 million. After taking office in 2011, Cook has received 1 million of restricted Apple shares, which cost then estimated at $ 376 million, but now it is already $ 665 million.

Cook salary is $ 1.75 million, according to Bloomberg, citing Apple's report to the Securities and Exchange Commission. Last year, the CEO earned $ 9.22 million, which has already increased his earnings for 2013. Cook received another $ 6.7 million as bonus payments for the last fiscal year that ended in September 2014.

Cook's revenue growth has been affected by the success of the launch of the new iPad and iPhone in September last year, after the presentation of which the value of Apple exceeded $ 700 billion. Two months later, the company's shares on the NASDAQ rose to $ 119.75 per security.

In February this year, Apple became the first American company whose market capitalization at the end of trading on the Exchange exceeded $ 700 billion. Apple keeps the status of the world's most valuable company from 2013, when it surpassed ExxonMobile capitalization.

Tim Cook led Apple in August 2011 after the previous CEO Steve Jobs resigned. In 2003, Jobs was diagnosed with cancer of the pancreas. The founder of Apple died on 5 October 2011 at the age of 56 years.

In 2010, US billionaire Warren Buffett and Bill Gates launched a philanthropic campaign Giving Pledge, whose members are committing to charity more than half of personal wealth. More than 150 richest people all around the world have already joined the campaign.

Apple continues to beat all imaginable and unimaginable records on market capitalization. Some analysts have voiced cherished figure of $ 1 trillion and advise clients to focus on such value in the long term, ignoring the uncertainty and basing on the medium-term forecasts.

Apple's capitalization today is $ 733 billion. After auction, shares grow by 1% and cost $ 127. Against this background, most analysts advise to either keep or buy Apple securities.