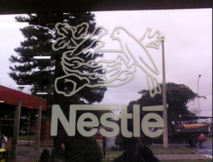 Pedro Angelini via flickr
The source said that if the deal succeeds, the companies will create a joint production, equally owned by Nestle and R & R. It has been clarified that the transaction could take place as early as this week. There is no official confirmation of the information yet.

It also became known that Nestle has decided to challenge the producers of premium chocolate, such as Lindt & Sprungli. The company has expanded access to its luxury brand Cailler, previously sold only in Switzerland, to the United States, Britain and Germany. According to "USA Today", the following countries have already been put on the waiting list. Cailler chocolate from Nestle will be sold outside Switzerland via the online platform Amazon. From October 1, the product was introduced in Germany, the UK and the US, and eventually, the chocolate will also be exported to China. USA Today also notes that Cailler this week went on sale in stores of four airports such as Geneva, Zurich, Dubai and Singapore.

The expansion of the brand outside of Switzerland was accompanied by a large-scale marketing campaign, writes All Retail. Cailler is the brand that begins its origins in 1819, when François-Louis Cailler created the first in the history of Swiss chocolate bar. Cailler's brother-in-law, Daniel Peter, in 1875 got idea how to combine bare chocolate with condensed milk in the production on a farm of his neighbor (which was, surprisingly, Henri Nestle) to get milk chocolate. Nestle bought the Cailler brand in 1929. As "USA Today" already noted, the premium chocolate segment - a sector where Nestle has proved worse than its direct competitors.

The newspaper recalls that Nestle's CEO Paul Bulcke during last year's conference with investors noted that the segment of premium chocolate is the "cause of his personal disappointment." In addition, Jack Skelly, an analyst at Euromonitor International, said in an interview with "Financial Times" that Nestle is suffering from the lack of a strong brand in the premium chocolate segment in Western Europe and the United States. Partly for the reason, the share of Nestle chocolate on the market in Western Europe declined from 2010 to 1%. Currently, 40% of revenue in the segment of chocolate comes from sales of products under the brand KitKat.