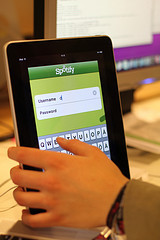 Music streaming service Spotify is planning to build its portfolio by adding web video streaming service as well.
According to a report in Wall Street Journal, the company is in serious discussions with several digital media players about potential partnerships to enter the web video business. The company is planning to not just stream popular videos but is in discussions to create specialized content for the service. So Spotify is discussing with companies that specialise in making content for Google's YouTube. An announcement from Spotify about this service could come out as early as this month.

Spotify is also nearing a deal to raise $US400 million, valuing it at $US8.4 billion. Being in a tough market, Spotify competes with Pandora Media and Apple's Beats and has to constantly reinvent to stay relevant. According to company reports, there are 15 million subscribers and 60 million active users at the end of 2014.

The new move from Spotify could also be a response to music service competitor Tidal, owned by popular rapper Jay-Z, which includes access to music videos in its subscription, and also plans to regularly stream live concerts and other exclusive content to customers. Google's Music Key also provides subscribers access to millions of ad-free music videos on YouTube.