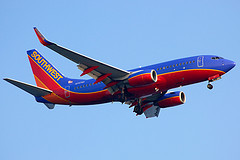 US-based commercial airline firm Southwest Airlines has announced more domestic and international routes.

The company has announced that the new flights schedule will start from January 2016 and the new international routes include Costa Rica.

New international service between eight cities and Houston (Hobby) will be added by the end of this year. The new international route to Costa Rica will be the carrier's 97th destination to Daniel Oduber Quiros International Airport at Liberia in the Guanacaste beach and resort region of northwest Costa Rica. The new route has to get regulatory foreign government approval.

Meanwhile new service between Akron/Canton and Las Vegas will begin from 15 November 15. The airline will also add daily flights between Orange County/Santa Ana and both St. Louis and Kansas City, Missouri from 22 November.

From October 15, new service will also connect Hobby with the Mexican destinations of Cancun, Mexico City, Puerto Vallarta and Los Cabos. Other routes will link Hobby to Belize City, Belize, and San Jose, Costa Rica. Beginning November 15, service from Hobby will be added to Liberia, Costa Rica, and Montego Bay, Jamaica. All the international routes will be subject to foreign government approval.