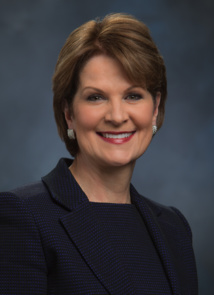 Thestrategist.com – 15 April 2015 – The Washington Post announces the "highest-paid" C.E.O. of the year among the women. The celebration of "Equal Pay Day" that took place on Tuesday, 14 April 2015, emphasized the fact that even in 21st century there "still exists" a salary gap between women and men employees. However, only a handful of female C.E.O.s could bridge the said gap.

An analysis report published by U.S.A Today, on Wednesday, 15 April 2015, enlists Marillyn Hewson, the C.E.O. of Lockheed Martin, as the highest paid "female" C.E.O. among the companies with available proxy released since the beginning of last year. As per Lockheed Martin's proxy, Marillyn Hewson's pay rose to $33.7 Million as the chief executive of the aerospace and defense.

Hewson finds her place as the leading female C.E.O according to "the Standard & Poor's 500-stock index" that were out in the file till now, judging from the "total compensation". The analysis of U.S.A Today also informs that besides being the "highest paid female" C.E.O.s, Hewson also figures in the list of top ten C.E.O.s, as the only woman, according their earnings. Nevertheless, the rankings are based on the statistical figures which incorporate the data only of those companies that had "released their data".

The Washington Post writes:
"A company spokesperson declined to comment further about Hewson's compensation, but as USA Today noted, investors probably won't raise too many concerns. Lockheed Martin's stock rose some 30 percent in 2014, far better than the S&P 500."

However, there remains only a handful companies including Oracle, Yahoo and General Motors, with a woman chief executive officer that haven't filed this year's data so far. One can arrive at a rough estimation of the salary of these C.E.O.s based on the data from previous year's proxy records. Yahoo paid its C.E.O. Marissa Mayer $ 24.9 Million in the year of 2013, while Genral Motor paid $ 14.4 Million to Mary Barra in 2014. Moreover, Safra Catz, who was appointed co-C.E.O. of Oracle in last September had earned over $37 Million as company's president in the last financial year. Catz is the only possible C.E.O. who could possibly receive a greater pay than Hewson.

Furthermore, The Washington Post informs:
"Among companies that already have filed proxies this calendar year, the next two highest-paid female CEOs after Hewson are PepsiCo's Indra Nooyi, whose total compensation for 2014 was $22.5 million and Xerox's Ursula Burns, who earned $22.2 million."

A certain change made in Hewson's pension value affected the compensation amount giving it a "big boost" sometimes last year. The said change added almost $ 16 Million's difference that comprised of almost half of her pay amount and thus, the pay took a massive jump. Keeping this big difference in mind, Lockeed, in fact, had to create a separate column in the company's pay table to incorporate Hewson's $ 17.9 Million which "she earned without the pension value change".

According to the executive director John Roe from "ISS Corporate Solutions", the investors value the entire picture more even though the companies tend to separate the salary amounts. In his words:
"Many institutional investors think the change in pension should be included, because it includes a real cash payout CEOs will take with them when they retire".