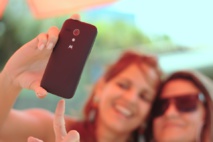 pixabay.com
Some companies, like, for example, Ditto Labs Inc., even use special software to scan the photos (i.e., to find a picture of a person with a can of Coca-Cola in hand), identification logos, smiling people or a certain background scenery. The collected data allows marketers to send targeted ads or to conduct market research.
Company Piqora Inc. stores received photos for months on their servers to show marketers the most popular trends. By the way, a number of 'market research' even managed to violate the already vague rules for storing images that are present on websites.
Faces
Human faces can provide the necessary context. If a logo appears near the face, you can say what the person prefers. Facial expression helps advertisers understand the feelings and moods of the moment and the kidney in long-term study.
Products
Users who post pictures of beer or ski equipment can be entered in the special interest groups. Marketers are also looking for the relation between different hobbies, for example, what drinks are combined with what products and activities.
Clothing
Ditto began to classify items such as handbags or sunglasses, and sometimes can even detect patterns on clothing.
Logos
One can recognize about 3000 logos. Advertiser can search for photos, where brands and competitors are presented, to steal their customers.
Landscapes
The place where the photo was taken, whether a bar or a snowy mountain slope, can help marketers understand where and how consumers use their product.
Is our data in danger?
The efforts of modern startups raises new concerns about the protection of data privacy. In particular, the question arises on how do photo sharing sites provide collection and transmission of users' personal data. After all, the volume of data downloaded is really amazing.
According to Instagram, the number of images in the service is around of 20 billion, with 60 million photos are added to the site daily.
Digital marketers have access to photos, posted openly on the Instagram or Pinterest, using code called API-interface applications. In turn, photostocks hope that brands, in the end, will spend money to advertise their products on their websites.
Meanwhile, the keepers of privacy claim: these websites do not tell users that they can scan photos or mass downloading solely for promotional purposes. According to experts on data privacy, many users do not want to advertise, say, some jeans brand or a couple of beer bottles on the table next to them.
- We have a very fertile ground for commercial exploitation and predatory marketing
says Joni Lupovitz, the vice president of Common Sense Media, a group protecting the confidentiality of personal data of children.
- Imagine you just happen to be in a certain place or decide to take a picture, but you and has no idea that your data can be used to create your personal profile on the Internet.
In recent years, startups have intensively studied tweets and posts on social networks in search of keywords that would indicate trends or were related to brands. Studying images market is a novelty and fraught with far more potential aggression than it seems at first glance, because the photos evoke in people much more emotion and association than the text.
The largest online photo sharing sites - Instagram, Flickr and Pinterest Inc. - claim that they are adequately informing users about that their content partners can browse the photos, and retaliate if third-party developers violate their rights. The photos that a user chose to hide from others, will not be available to marketers.
Caching as a way to avoid responsibility
In addition to image recognition, some API-partners use caching or, more simply, transferring pictures to their own servers. One of the most common features of caching is to create a marketing campaign around the pictures uploaded by users and selected by special hashtag.
Companies do not mention caching in their privacy policies and allow developers to store photos on their servers for a different time. For example, Tumblr limits caching three days, while Instagram mentions undefined 'reasonable period'.
Some developers have already violated the rules established by the sites. Earlier, owing to the investigation of Wall Street Journal, Pinterest has learned that Piqora, one of the seven partners of its API-business program launched in May, violated the policy of using images to the service.
Young Piqora marketing company from California collects pictures in graphical toolbar, which helps such manufacturers of clothing and accessories as Fossil Inc. track their popularity and competitive products. It turned out that such actions are contrary to the policy of Pinterest, which restricts the partners to use images from the site.
According to the company, after getting to know about the violation, Pinterest asked Piqora to stop this practice; the company is now planning to start carry out regular checks of their business partners. Fossil prefer to refrain from comment.
In turn, the co-founder and CEO of Piqora Sharad Verma says he has already ruled out the possibility of viewing images of competitors in the toolbar. In addition, he explained the company's policy with respect to cache images from Instagram. Now, instead of storing the images for an indefinite period of time, the company will delete all photos from their servers after a maximum of 120 days.
- We should do away with caching and look for new ways to optimize their software, - said Mr. Verma
original by Douglas MacMillan and Elizabeth Dwoskin,
Wall Street Journal
.wsj.com