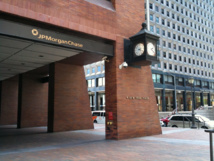 Salim Virji
According to sources familiar with the investigation, SEC has asked JPMorgan to provide all April's correspondence related to the 35 Chinese officials.

Although Wang Qishan holds the sixth position in the CPC Central Committee's list, he's the second in regard of the level of influence in the country after President Xi Jinping at the expense of its leading role in the anti-corruption campaign, which affected thousands of Communist Party members.

In March, Wang Qishan expressed desire to visit the United States as part of his first trip abroad as head of the Central Commission for Discipline Inspection. An anonymous US official told the FT, that talks about this have tailed away. Although he noted that there is no evidence that China's change of plans is related to the investigation against JPMorgan and other banks in the United States.

Previously, the newspaper The Wall Street Journal reported that the representatives of some of the largest banks are corresponding and holding meetings with regulators and investigators, which raises the issue of the legality of the employment of relatives of senior officials in other countries.

FCCU insist that such a practice is not in violation of the Law on Combating Corruption Abroad, adopted in 1977, and is a cultural norm in some countries of the Middle East and Asia. In their view, the law prohibits the taking of certain people to work only in exchange for the conclusion of specific transactions and does not limit itself hiring people with good connections.

Analysts point out that this practice is particularly prevalent in China. For example, JPMorgan Chase actively hired sons and daughters of the Chinese politicians. In particular, Gao Jue, a son of the Minister of Commerce of China, is one of the bank's employees.

According to sources, JPMorgan Chase is preparing to send an official of the Ministry of Justice and the Commission on the US Securities and Exchange Commission (SEC), in which he expressed his concern about the position of the authorities. Curiously, the drafting of the document, according to sources, has been made by a lawyer Mark Mendelsohn, in 2005-2010 worked in the Ministry of Justice department of anti-corruption investigations.

Also, regulators are checking the activities of Bank of New York Mellon. The bank is suspected of hiring younger employees as relatives of officials associated with the National Welfare Fund of Libya, which allegedly was made in order to obtain contracts for transactions with the Fund.

A source close to the SEC said, that the commission was not convinced by the banks, but regulators are ready to discuss the issue. Besides, he added, there are many examples when hiring a specific person can be directly linked to the prisoner as a result of this transaction.