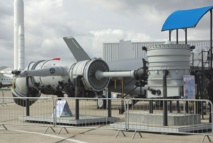 Rolls-Royce Holdings PLC, wikimedia
The UK government is trying to bail out one of the Ministry of National Defense's largest suppliers, Rolls-Royce Holdings PLC. As reported by Financial Times, the authorities are pondering nationalization of the company as one of the options. Thus, 45 years after its first nationalization, the manufacturer may be controlled by the state once again - this time in part, however. Now we are talking only about one division of the company – those, that has been producing nuclear reactors for submarines engines.

Over the past 20 months, Rolls-Royce has released five warnings of decline in profits, including decline in the aerospace industry, which is crucial to the manufacturer. That is why the government began to look for exit options to draw the company out of the crisis. Rolls-Royce Holdings PLC is the main supplier for the Ministry of Defense, so the government started considering possibilities of help in October this year. Now, in addition to the nationalization, the authorities see another way to bail the company out. This is merger of part, or whole Rolls Royce's business assets with another British defense company - BAE Systems.

In November, CEO of Rolls-Royce Warren East said his company is not going to sell "large proportion" of its business. Apparently, the producer can say it, as the company has protection against potential attempts to takeover. Firstly, it is the government's golden stake, which forbids the company to sell more than 25% of its net assets, or atomic units without the authorities' consent. In addition, share of foreign capital is limited to 15%. All these measures were set in 1987, when the company was privatized 16 years after nationalization, undertaken to save the manufacturer. Nevertheless, the new owner managed to improve the company's financial condition, which undoubtedly would be attracting for shareholders. As explained by publishing analyst at the Ministry of Defense of the United Kingdom, then investors could put pressure on the government so that the ban on sale of the company's aerospace division would be lifted. As for potential investors, American Pratt & Whitney and German Siemens already have the division in their view.