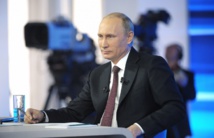 kremlin.ru
Nobody to be considered as an enemy

Being asked about the spoiled relations with the West, Putin said that it is not Russia's fault. However, he said, some countries do not need partners but vassals. Russia cannot exist in such a system. According to Putin, Russia will not "pout" and isolate. He added that attempts to inflict damage to Russia by sanctions are not effective. He said that there is nobody to be considered as an enemy:

- We do not see anybody as an enemy and do not recommend anyone to regard us this way…the most important condition for restoring normal relations is respect for Russia and respect for its interests, - he said.

Nemtsov's murder is a shameful occasion

According to Vladimir Putin, the murder of Boris Nemtsov is a shameful and tragic case. Authorities worked promptly and well, and the criminals were already known in a day and a half, he said. It now remains to learn if there was the murder's customers. Putin also said that Nemtsov was sharply opposed towards him, but the relationship between them were good.

No war with Ukraine in the future

The head of state denied concerns of refugees from Ukraine border regions on the possibility of the war outbreak between Russia and Ukraine.

- I presume that this is not possible, so that live peacefully, - said the president. According to him, there were some excesses, when the shells came down to the territory of Russia, but it can be classified as accidents. Putin said that Donbass need to restore life for the refugees to return to their homes.

No Russian troops in Ukraine

I speak plainly and definitely – there is no Russian troops in Ukraine - Putin said, responding to a question from the audience.

Delivery of S-300

On the question of the supply of S-300 systems to Iran and Angela Merkel's statement that they need to act together on the issue of lifting sanctions, Putin said that he did not hear this statement. According to him, someone may be afraid that Russia started the lifting of sanctions but the delivery of S-300 is not included in the sanctions list. He added that Russia sees no reason to unilaterally keep the ban. Talking about arms shipments to the region amid fears of Israel, Putin assured that Russia always takes into account the situation in the region.

About Mistral

Responding to a question on France's refusal to supply Russia with Mistral, Putin said that Moscow will not demand payment of penalties for failure to supply ships, but hopes that France will return the money.

- I assume that the current leadership of France and French people in general are decent, and the money will be returned to us. We are not even going to require any penalties or exorbitant fines. But the important thing is that all the costs that we have incurred, must be returned,- said Putin.

On the results of the year and GDP

At the beginning of the direct line, Vladimir Putin summed up 2014's results. According to him, the real GDP grew by 0.6%, 1.7% increase in industrial production, and also the record of oil production, which amounted to 525 million tons, is updated

A nod to Eurozone

Putin also drew attention to the situation in Europe.

-There is a lot of problems in Eurozone, it is bursting at the seams. Will Eurozone leaders be able to cope with those who are lagging behind? - the president said.