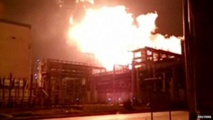 youtube
This was reported by the local news portal "Quanzhou van."

According to eyewitnesses, the explosion occurred around 19:00 local time. Information about the victims have not yet been reported officially, but last reports say that there is one injured.

According to preliminary data, the blast had torn down the roof of the nearby buildings from the scene. High flames and smoke can be seen on photos of the explosion from the scene posted on the Internet.

According to media reports, about 80 cars and 430 rescuers were sent to the accident.

As far as is known, the plant, where the blast occurred, produce toxic substances paraxylene and p-xylene, relating to toxic hydrocarbon compounds, which are used in the production of polyester.

Paraxylene is used in industry for the production of plastics, and polyester film. Experts report that even brief exposure to p-xylene may cause irritation. With long-term effects lesion of the central nervous system that can lead to death may be observed.

Explosions and other incidents in Chinese factories occur quite regularly. Sometimes they even lead to casualties. For example, in November 2011, 14 workers died in an explosion at a chemical plant in the city of Xingtai.

Also, the production of hazardous chemicals affect the ecology of the country and the health of its inhabitants. In August 2014, thousands of the northeastern city of Dalian were demanding to close a plant, which produces paraxylene, a flammable carcinogenic liquid used in the production of polyester films and fabrics. A month later, more than 500 residents, living near the plant for the production of solar panels, protested for three days to force authorities to temporarily close the plant. In the same month, Shanghai authorities have stopped most of the plants for the production of batteries of the city, after 32 children living near these plants was found high levels of lead in their blood.