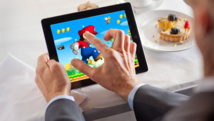 The company has signed a contract with a publisher DeNA. The transaction involves the launch of a new gaming platform. Satoru Iwata, the head of Nintendo, announced the joint project at the last 17 March press conference. Iwata said that users will be offered a completely new product rather than adaptation of already released games for the consoles.
Cooperation agreement involves an exchange of shares. Nintendo puts in DeNA $ 182 million and receives 10% of the shares. Publisher, for the same money, receives 1.24% of the shares Nintendo. They are planning to show the join product to the world this autumn. Mobile users will have access to gaming applications only through the new platform, to which users can connect through the game console.
According to the head of Nintendo, the platform will be available to users worldwide. Iwata is sure that the product will bring millions of new users. Under the deal, all the profit is divided equally between Nintendo and DeNA.
Nintendo did not want to deal with the issue of products for the mobile market, because mobile games are free, and the profit in this segment comes from purchases and additional characteristics of the players and amplifiers that are already inside the application. Nintendo afraid of losing part of the profits from the games for consoles.
Survey conducted by the publication of expert analysts showed that the failure of the company to market mobile applications negatively affected earnings. To date, the development of the gaming segment is based just on mobile technology. According to analyst firm Newzoo last year revenues from mobile games have added 42% to $ 25 billion.
The stock market reacted positively to the news: at the close of trading value of one share of the company reached $ 18.22, reflecting 27.5 percent growth compared to the result of the previous trading day.
Founded in 1999, DeNA initially engaged in the organization of online and mobile auctions, and in 2006 launched a social gaming platform Mobage for smartphones and tablets. In 2012, the company signed a contract with Disney to develop games for its licenses. The record of DeNA can find many famous games for iOS and Android - for example, it performed the publisher strategy Godus from Peter Molyneux. However, the basis of its portfolio consists of projects almost unknown outside of Japan. According to the calculations of App Annie, DeNA is eighth in the list of most profitable publishers of mobile games in Japan.
source:
gamespot
.com