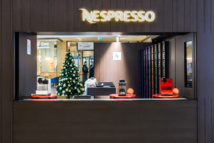 www.nespresso.com
The secret was that the barista did not immediately filter the milled coffee beans out but exposed them to hot steam several times instead. When back in Switzerland, Favre applied his engineering skills and developed a hemisphere with a built-in filter and a membrane. The coffee capsule, an invention that revolutionized the coffee industry, come to being.

Premiums

Nestle capsules gave a new round of popularity to the classic espresso - one of the most popular coffee drinks. Espresso (in Italian - "fast", "urgent") is brewed in less than 25 seconds: the high-pressure hot water passes through finely ground coffee beans. This is a concentrated "shot" of coffee with firm delicate chocolate-brown foam, known in Italy as a crema. Espresso machines has been used since 1938, yet at the time, professional appliances were expensive, cumbersome, and were not used at home.

Eric Favre decided to improve this technology. "20% of air consists of oxygen. Oxygen oxygenizes essential oils and allows them to exhale more quickly. Espresso consists of a mixture of air, water and the coffee oils. It's very simple, but no one thought of this before ", - said Favre in his speech at a conference dedicated to the opening of the World Intellectual Property Organization in June 2010 in Geneva. "I did not invent the capsule, I invented the technology, and it is much more important," – he said.

Favre's brainchild impressed his bosses so much that Nestle Group registered a separate company, called Nespresso S.A in 1986. In the same year, Nespresso had introduced its first coffee machine - the model C100 accompanied with four types of coffee capsules with different flavors. New items were initially positioned as a system for offices and wasn't much popular. However, everything changed in 1988, when the company was headed by 33-year-old Swiss businessman Jean-Paul Gaillard, a former top manager of Philip Morris.

It was Gaillard who first got an idea to orient their goods not to offices, but end consumers. With a marketing budget of 1.6 million Swiss francs, Nespresso brand began to position as the most sophisticated and refined coffee, which can be obtained only at home. To highlight the flavor and aroma of the coffee capsule, Gaillard named the line of capsules Grand Cru – a term used to describe French wines. On the same wave in 1989, he founded the Nespresso Club open for each owner of Nespresso coffee machines.

"The idea was to keep the brand at the level of people who have a doorman," - later recalled Gaillard in an interview with The New York Times. The brand gradually started to form a veil of exclusivity, a gated community of successful, silk-stocking coffee lovers. Nespresso Club's call-center employees were forbidden pick up the phone before the third ring - to create a sense of his business in clients. Since 1992, the company started to grant those who bought the capsules with a small Nestle chocolate bar.

Gaillard's efforts did not went up in smoke: Nespresso's sales skyrocketed. In 1991, Nespresso capsule coffee machines became available to customers in France and the US. By 1993, the Nestle factory in Orbe, Switzerland, had to open a second production line to double capsules release and meet the growing demand.

In 1995, Nespresso has entered the break-even level, becoming one of Nestle's fastest growing divisions. The pre-order system to sell capsules had become Nespresso's hallmark: the capsule is still sold only in retail stores, on the official website or by phone.

Litigation

Capsules were gaining popularity: in 2002 alone, the new Nespresso production center in Orbe increased production by 4 times. By 2010, according to Euromonitor International, the coffee capsules accounted for 20 to 40% of global sales of ground coffee. Such circumstances were making keeping the lead in Europe increasingly hard with every month. One by one, there popped out companies wishing to take a bite from Nespresso's tidbit market.

The company was ready to fight for the market: according to Nestle, Nespresso system was defended by nearly 1,700 patents. But, as is often happens, the company failed to prevent the threat from within. In 2008, Jean-Paul Gaillard, who'd left the company ten years before, founded Ethical Coffee Company (ECC). The business maestro started to sell biodegradable coffee capsules that are compatible with Nespresso coffee machines, but cost at least 25% cheaper than the original. Gaillard later claimed that founded the rival company not out of a desire to take revenge on former colleagues, but because of genuine concern for the environment. "When you look at the condition in which we leave the Earth for future generations, it's a catastrophe," - explained Gaillard in an interview with the Swiss Broadcasting Corporation.

Two years later, "environmentally friendly" ECC capsules were sold in more than 7 thousand retail outlets in France and were uploaded in the German and Swiss market. Nestle was not going to give up the position easily: at its request, the French authorities have confiscated a batch of ECC coffee capsules in June 2010. Subsequently, the company's shareholders sued ECC. The accusation was copying the unique technology patented by Nestle, and set the stage for a series of lawsuits between the two companies against each other.

Furthermore, Nestle's machines got complicated with a "harpoon mechanism" - special hooks, catching capsules from other manufacturers inside and thereby making them unusable. It became known from the ECC counterclaim, filed in January 2015. «Nestle spent millions of dollars on innovation and Nespresso research for many years. So when someone comes along with a clear copy of our product, we have to defend ourselves ", - explained former head of Nespresso Richard Girardot in an interview with The New York Times in 2010. ECC's founder Jean-Paul Gaillard, in turn, compared Nestle's behavior with failed attempts of Hewlett-Packard Company to prohibit production of printer cartridges.

In addition to the litigation with ECC, Nestle filed a lawsuit against American Sara Lee Corporation in 2010, for releasing capsules compatible with Nespresso on sale in France, Belgium and the Netherlands. As in other similar cases, Sara Lee's representatives claimed that their capsules are not even close to violating Nespresso's patents.

In 2012, term of validity of most of Nespresso's patents had expired, and number of lost lawsuits increased dramatically. In August 2012, the Düsseldorf court rejected Nestle's claims to the ECC, considering that having bought a Nespresso coffee machine, the client has the right to use it as he likes, including use of other manufacturers' capsules. The capsules are neither a key component of the espresso machine, nor the "special function" of the patented invention, the court decided.

In April 2013, a British company Dualit Ltd got the court's nod to produce and sell capsules compatible with Nespresso coffee machines. Another blow was waiting for Nestle in October 2013: the European Patent Office revoked a patent for Nestle capsule recovery system. "It seems to me, coffee machines started to be seen as a public good, so now you cannot forbid people to develop their own capsules for coffee" - analyst Jon Cox explained Nestle's losses.

However, the main challenge was yet to come. In June 2013, the main Nestle's competitor in the coffee market - American Mondelez – announced sales of capsules compatible with Nespresso (the company sells Tassimo capsule system). "The consumer should have access to our brand in the format he chooses for himself", - explained the world's second largest producer of coffee. After this, according to Euromonitor International, the company would be able to control 16.3% of the world coffee sales. According to the same data, Nestle now controls 22.7%.

Competitive environment

Nespresso is trying to deal with competitors not only in courts: the company use celebrities, including Hollywood stars George Clooney, Matt Damon and John Malkovich, for expensive advertising campaigns. Clooney was the brand's face in 2006 – according to British media, he got on it about $ 40 million during the first six years of the contract.

There are severe fights with competitors: one of the commercials shows a piano dropping down on Clooney, and at the gates of heaven, the apostle Peter barters his life for a coffee machine with Nespresso capsules. Before the clip was halfway through, Lavazza accused Nespresso of plagiarism: the Italian coffee producer said that it's been exploiting the theme of paradise in its commercials since 1995. "It's hard to resist the conclusion that the commercial was copied from ours", - said head of Lavazza, Gaetano Mele. The companies exchanged a few stinging statements, but did not bring the case to court.

Sales of coffee capsules are growing faster than the coffee market in general. According to Euromonitor International, disposal of coffee capsules in the world has tripled to $ 10.8 billion during the last five years, while the entire coffee market gained 35% over the years. New capsules manufacturers also proceed to pop up: according to The Wall Street Journal, there were about 130 of them in 2014, and at least 50 of them were making capsules suitable for Nespresso.