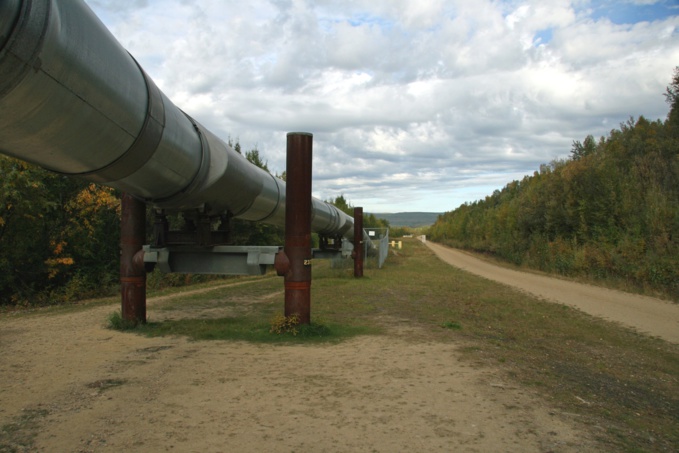 Gas pipeline (illustrative picture)
The European Union has generally been one of the most robust and determined supranational organisms with regards to sustainable development and decarbonisation. There has been a
25% decline
in European greenhouse gas emissions in the past 30 years, but reaching carbon neutrality by 2050 necessitates the accelerating of the energy transition plan developed in the framework of the
Green Deal
, Europe's ambitious plan top become the first climate-neutral continent. One third of the €1.8 trillion post-Covid NextGenerationEU Recovery Plan, and the EU
'
s seven-year budget, will finance the European Green Deal, which has created a "unified European strategy for energy transition, integrating the divergent interests of member states and supporting the effects of this transformation over time," according to a
report
by Institut Montaigne.
Indeed, ambitious climate action requires some pragmatism in the short term, as renewable energies are not yet efficient enough, and critical infrastructure is not yet in place. It is impossible to achieve a carbon-neutral economy free from fossil fuels overnight, a transitional phase is key. In 2022, Europe actually found itself on the brink of a real energy crisis as it struggled to wean itself off of Russian oil and gas. At one point, spot prices
peaked
at almost 340 euros per megawatt hour (MWh) (August 26, 2022). We have now returned to 2019-2021 levels, but risks have not entirely disappeared, and a new approach to transitional energy sources has been discussed with fervour. This means finding regular energy supplies that do not seriously jeopardise European economic and ecological models. LNG would seem to provide such a solution.
The problem with Russian gas
The shock of the Russian invasion of Ukraine reverberated around the world. In Europe, Putin's threats of an energy war left lawmakers in Brussels deeply concerned about energy security and energy supply chain resilience for the winter of 2022. In 2021, EU countries
imported
155 billion cubic metres (bcm) of Russian gas, which accounted for around 45 per cent of total gas imports. This represents a huge percentage of energy imports, and the outlook in February 2022 was dire.
In spite of this, Europe managed to fend off the worst-case scenarios through a program of diversification of its gas suppliers. By November 2022, gas imports from the Russian federation had
dropped
to around 12% (compared to over 50% at the beginning of 2021), with the EU successfully sourcing Liquified Natural Gas (LNG) in the period from January to November 2022 from countries like Norway (24.93%), Algeria (11.62%) or the US, Qatar and Nigeria (25.72%). LNG imports from the United States significantly jumped from 0.65 bcm in January 2021 to 4.09 bcm by November 2022, peaking at 5.78 bcm in April.
"
Europe
'
s energy divorce from Russia is nearly complete,"
said
Andrew Lipow, president of oil industry and market consulting firm Lipow Oil Associates.
"
We
'
re seeing a permanent change as far as how Europe gets its energy in the future. One result is the United States and European energy policy are going to be more closely intertwined."
Indeed, a complete decoupling of Russian gas supplies and a banning of pipeline operations with the country was
touted
in May 2023 by EU countries and their G7 allies, although this was met with some opposition.
"

There is too much resistance from the countries dependent on the remaining gas,"
an EU diplomat
told
Politico.
"

The 11th sanctions package is almost done and inserting this huge measure at this moment is not going to work."
With the latest figures showing that EU Russian gas imports at around 8% as of early July 2023,
according
to Bruegel, Ukrainian pressure and the continued threat of Russian energy blackmail could eventually lead to a complete prohibition of pipeline imports. It would be a symbolic step, but structural and supply issues would first have to be overcome.
Structural issues
Europe's sudden move away from Russian gas imports meant EU lawmakers began a frenzy to agree energy deals with suppliers from around the world, as Europe's renewables sector, though making headway, remains insufficient to meet European energy demands. Indeed, wind and solar energy provided a record one fifth of the EU's electricity in 2022, but also increased its fossil fuel consumption by 3%, according to a
report
by thinktank Ember.
Moreover, a decrease in energy generated by hydro and nuclear came at the worst time.
"

A one-in-500 year drought across Europe led to the lowest level of hydro generation since at least 2000, and there were widespread unexpected French nuclear outages just as German nuclear units were closing,"
according
to David Jones, head of data insights at Ember. This dropped was counterbalanced by wind and solar generation, a fall in demand and a
record volume
of gas storage following the winter of 2022/23.
In spite of a better energy outlook for the winter of 2023/24, Europe remains obliged to discourage overconsumption, especially in a fragile economic climate with the threat of inflation, industrial closures and price hikes forever on the horizon. Under current Green Deal rules, renewables are set to
account
for just 32% of European energy demands by 2030 (with EU lawmakers since demanding a revision of this with an increase up to 45%), means transitional solutions still need to be sought.
The search for new suppliers
Environmental concerns remain crucial to EU energy policy, but it is important to find a balance between Green Deal ambitions and energy pragmatism. LNG remains an attractive transitional energy source, with
carbon dioxide (CO2) emissions
40% less than coal and 30% less than oil. Diversifying supply has been crucial as Europe moves away from Russian gas.
This has meant that old suppliers, like the U.S., have moved to the front of the queue. In 2022, the Europe became the primary destination for LNG exports from the U.S.,
accounting
for 64% (6.8 Bcf/d) of total exports. Four countries—France, the U.K., Spain, and the Netherlands—accounted for a combined 74% (5.0 Bcf/d) of U.S. LNG exports to Europe. Common energy security remains in the interests of both Europe and the U.S.
"

Over the past year, the United States and Europe have thrown our energy security cooperation into even higher gear,"
said
U.S. Secretary of State Antony Blinken, in Brussels for a summit with his EU counterpart Josep Borrell in April.
But to maximise energy imports and reinforce resilience, new suppliers remain a necessity for long term security. Energy companies and certain producer countries have fully understood the issues at stake, and are making steady progress, both in the exploitation of gas fields and in the exploitation of the finished product via maritime supply routes. Examples include small countries like Mozambique, where companies from Europe and Asia operate the Mozambique LNG project. It was launched following the discovery of a vast quantity of natural gas off the coast of northern Mozambique in 2010, leading to a $20 billion Final Investment Decision in 2019. Unfortunately, preparatory work has been on hold since 2021 due to security concerns in the country's Cabo Delgado province, where an Islamist insurgency has been raging since 2017. However, given the recent improvements in stabilising the region, the energy companies and their partners
are studying the conditions
for resuming onshore work in the near future.