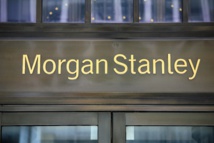 Alex Proimos
In February, the bank has already reached an agreement with the US authorities of such claims and paid $ 2.6 billion to the Ministry of Justice for amicable settlement.

As noted in the article, Morgan Stanley is at the bottom of the list of major US banks in terms of payments related to the financial crisis and mortgage-backed securities, as it had never been in the mortgage business unlike the Bank of America and JPMorgan Chase.

The last two banks spent on settlement of claims respectively $ 73 billion and $ 26 billion, while Morgan Stanley's loss amounted to only $ 4.5 billion.

Bank of New York Mellon Corp. (BNY Mellon) previously agreed to pay a fine of $ 714 million for the amicable settlement of a number of complaints about cheating clients in conducting transactions in currencies, according to Financial Times.

As stated in the bank's press release, its net profit in I quarter rose up to $ 2.39 billion, or $ 1.18 per share, compared with $ 1.51 billion, or $ 0.74 per share, for the same period a year earlier .

Adjusted profit was 85 cents per share, the consensus forecast of economists surveyed by Bloomberg, 78 cents per share.

The bank's quarterly revenue rose by 10.3% to $ 9.91 billion ($ 9.78 billion excluding accounting adjustments), while the market was expecting an average $ 9.17 billion.

Adjusted revenue from trading in shares increased by 33% to $ 2.27 billion. In view of this, Morgan Stanley has lost its leading position in this sector by the end of last quarter, giving it to Goldman Sachs having earned $ 2.32 billion.

Morgan Stanley's income in Wealth Management increased by 6.2% to $ 3.83 billion.

Revenue from trading fixed income, currencies and commodities (FICC) without taking into account a number of articles has increased by 15% to $ 1.9 billion. Morgan Stanley issued statements last of the six largest US banks.

Perhaps, soon we will see what impact these results will have on negotiating between bank and government.

According to the Federal Agency of housing loans (FHFA), Morgan Stanley sold securities to two mortgage agencies - Fannie Mae and Freddie Mac, not informing them how it is risky.

These securities impaired in 2007, when US real estate market had collapsed. Sale of overpriced securities backed by mortgages was one of the main causes of the crisis of the banking system in the United States 2008-2009.

For several years, US authorities have been trying to recover from Morgan Stanley and other financial institutions large sums to compensate for losses incurred by Fannie Mae and Freddie Mac, as well as the money spent by US taxpayers for their support during the crisis.

In August 2014, one of the largest US banks Bank of America reached an agreement with the US Ministry of Justice for the settlement of similar charges. For this, financial institution payments amounted to almost $ 17 billion.

Other banks, including JP Morgan Chase and Deutsche Bank, have already settled similar claims out of court.

source: wsj.com