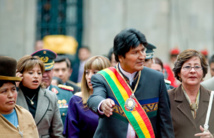 Joel Alvarez (Joels86)
Local media reported today that Morales strongly warns that, despite the forthcoming relations with the United States, the island will remain faithful to the Latin America and the Caribbean.
Speaking to network ATB, almost at dawn, Morales also lamented the lack of a final statement of the continental meeting, which was attended by most of the leaders of the region, with the exception of Chilean President Michelle Bachelet.
The leader welcomed the rapprochement between Cuba and the United States after more than half a century of economic blockade imposed by Washington, but noted that "if Havana can be a mediator for Latin America, welcome them," and warned that the White House has a very well calculated policy.
- I think that the United States has very well planned Latin American policy. If the United States does not have planned a meeting with Cuba, they would have virtually no support at the Summit of the Americas. This meeting with Cuba allows them to survive, said Morales.
At the plenary session of the summit, the president proposed to his US counterpart Barack Obama to overcome the cold war as a political alternative ways and was skeptical with regard to Obama's words, referring to the previous meeting in Trinidad and Tobago, where he had also promised but not fulfilled his promises.
- Obama almost persuaded me to in Trinidad and Tobago. Then he called for diplomatic relations of mutual respect, but almost ended his reign and did not fulfill anything, said the president of Bolivia.
- So I do not believe in its postulates, concluded the first president in the history of the indigenous peoples of Bolivia.
US President Barack Obama and the head of Cuba's Raul Castro held talks on Saturday. This was the first meeting between the two leaders for more than 50 years after the rupture of diplomatic relations between the US and Cuba. The meeting was held on the sidelines of "Summit of the Americas," which took place on Saturday in Panama City and in which Cuba participated for the first time. As Obama said after talks between the two leaders, they "had a very frank and fruitful conversation."
Earlier, the US State Department presented a recommendation to strike Cuba from the list of state sponsors of terrorism. The American leader has not yet announced its decision. Raul Castro said that the recent statements of the President of the United States to exclude Cuba from the list of countries sponsor terrorism are a positive step. According to him, Cuba should not have to be on this list. Cuban leader after the meeting with Obama noted that the parties intend to engage in dialogue and to work on bilateral relations. The head of the United States met with Venezuelan President Nicolas Maduro, their conversation was brief and almost nothing is known about the content of the conversation.
source:
prensa-latina
.cu