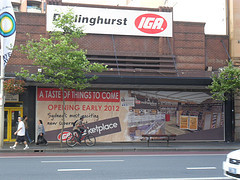 Metcash, the wholesale supplier for IGA supermarkets in Australia, has announced the sales of its automotive division for $275 million after the company declared a huge loss of $384.2 million on write-downs.

The skyrocketing write-downs means that the company is depreciating in terms of asset value in the grocery market in the country. To make matters worse, the company made sales earnings of $325.1 million which was lower than its last year sales for $390.3 million. The company announced that the write-downs, which occurred mostly in the food and grocery division, was due to rising competitive pressures in the market. Metcash's competitors Coles and Woolworths are vying between each other even as Aldi and Lidl, the newcomers in the market, are further dividing the pie.

Even though Metcash is planning to renovate some of the IGA stores to increase sales of the groceries, the company cannot see any profits to arise from the renovation until 2017. This tender situation has made the company to come to terms with the selling of its automotive division. The division was in fact making sales which were up by 17.8 per cent to $256.4 million when compared to last year. Metcash included separate sub-brands of Autobarn, Autopro and Midas.



The automotive division is being bought by automotive parts supplier Burson Group. The net proceeds from the deal will be utilized to reduce debt and invest in the company's core business of grocery, liquor and hardware.

Metcash meanwhile has announced that the company's employees in the automotive division will not have to face any job cuts due to the change of hands. The deal is yet to be closed and is due for regulatory approval. The transaction will be closed by next month.

Metcash CEO Ian Morrice has also announced a plan to invest more than $700 million over five years to reduce prices in its food and grocery division, rolling out an affordable range of private label groceries and renovate IGA retailers to boost sales of fresh food.