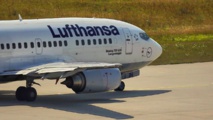 dvldi via youtube
As reported by the pilots of Germany civil aviation union Cockpit, Friday's strike will affect flights airlines short and medium range across the country. It is noted that the strike will not affect flights of Lufthansa subsidiaries, which are low-cost airlines Germanwings and Eurowings.
The strike began on Wednesday, March 18. About 750 flights of 1.4 thousand were canceled, resulting in approximately 80 thousand passengers were unable to use the services of airlines (mainly flying through Munich and Frankfurt). In Thursday, March 19, Lufthansa is losing 42 long-haul flights.
Cargo flights are carried out on schedule on Wednesday and Thursday.
Cockpit said that the reason for strikes is lack of compromise between the union and the airline in the revision of existing collective bargaining agreements with the airline pilots, as well as improving the conditions for early retirement. In particular, the management of Lufthansa insists on the abolition of benefits, which are paid to pilots who have completed a working career, but has not yet reached retirement age.
- Third notification pilots on strike for three days leads to an escalation of the labor dispute and affects our passengers instead of finding constructive solutions on the negotiating table.
The conflict between union and airline has lasted from April 2014. This is second strike of pilots who are members of the Cockpit, in 2015. Last year, the pilots had 10 strikes that led to a decline in operating profit Lufthansa down to 232 million euros.
The group Lufthansa, besides the eponymous brand, includes Austrian Airlines, Swiss Airlines and Germanwings. Last year, its total profits increased by about 8%, but the net profit fell nearly six times.
Over the past year Lufthansa profit amounted to € 55 million. In 2013, the figure was € 313 million. The market value of Lufthansa for the year decreased by 10.3%. Numerous strikes of pilots and flight crews are called as one of the reasons for the decline in the financial performance of the airline. In addition, growing competition from low-cost airlines negatively affected Lufthansa as well.
This year, Lufthansa plans to cut costs and continue the program of restructuring of the company.
In general, Lufthansa flies to 78 countries for more than two hundred directions. Fleet, including subsidiaries and carriers, has about 620 aircraft, and the total passenger traffic according to the company in 2013 amounted to 104.5 million people, which makes the group Deutsche Lufthansa AG one of the largest airlines in the world.
Lufthansa is also a member of the co-founder of Star Alliance, the oldest and the world's largest airline alliance, established in 1997.
source:
wsj
.com