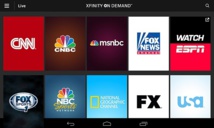 Director of Netflix content acquisition Ted Sarandos tells about the pros and cons of traditional linear broadcast.
The main difference from the TV streaming Internet broadcasts, as you know, is a rigorous program grid: shows are transferred out at the specified time, and some of them not to be repeated.
This effect is achieved by live broadcast, as the lion's share of information is transmitted with a minimum of technical delay.
Plus, the tight layout makes the looker-ins to watch even those programs that they originally did not plan to watch.
Currently, there are online services that rely primarily on the live broadcast of the event (i.e., Twitch works with a minimum of delay), but the major streaming services like Netflix have another business model.
The company tries to create a maximum amount of high quality content, which is updated gradually, but is available at any time.
Ted Sarandos claims that traditional linear broadcasting becomes "even more linear ' on the background of competition with streaming giants.
Popularity can be maintained due to broadcasts of sports matches and other urgent and tied to a particular time events, such as, for example, the Oscar awarding show.
Speaking about the awards ceremony, they may attract an audience of up to 40 million or more, and Netflix is ​​not yet ready to compete with traditional media in this field.
News are also worth remembering and those programs, which are also of interest to the looker-in at the moment, but not in a few hours in the recording.
"There will be more emphasis on events, award ceremonies and sports events - things that cannot be repeated or postponed," - said Sarandos.
According to him, television remains the undisputed leader in terms of importance of the live broadcasts.
As a result, according to Netflix, a natural evolution of television shall to come.
Online broadcasters will get big-budget TV series and other content, which is more convenient for people to look in the record.
And the traditional media will focus on events.
Since Ted Sarandos speaks primarily about the US market of electronic media, it is logical to pay attention to the existing statistics for the country.
Chief football match of the year, known as the "Super Bowl", attracted a record audience in the amount of 114.4 million people.
Thus, against the background of general decline in popularity of traditional TV, sports broadcasting continues to set new records.
Not surprisingly, many are looking for new channels of support for the extension of popular name in the field of sports.
So, ESPN has agreed to broadcast the matches of the e-sports, putting an experiment with Heroes Of The Storm.
In this area, there is competition with online streaming services, but the audience of the US main sports channel is incomparably higher.
An average American spends 5 hours a day watching television content of all types, as evidenced by Nielsen's data.
Streaming services like Netflix (Roku's result and mobile browsing is not taken into account), Hulu show a sharp rise: they now face at least 35 minutes a day, reflecting the rise by 39%.
Netflix's management is ​​particularly interesting against the background of talk about the end of the era of television.
Even the representatives of one of the most important and rapidly growing new type of broadcasters recognize that the normal channels are early to bury.
However, the words of Ted Sarandosa are a direct swipe at HBO and other competitors betting on TV shows and other content that does not require live broadcast.
Netflix, at least in words, does not leave a niche in the market for these companies.