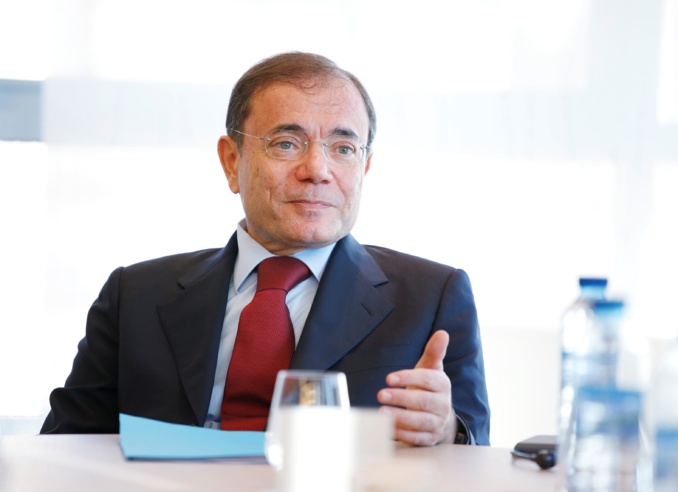 Jean-Charles Naouri (credit: groupe-casino.fr)
Being an industry leader requires a host of qualities: Patience. A deep understanding of the industry and of financial markets. The ability to weather a crisis. But the most important quality? Being a visionary strategist. Casino Group CEO and Chairman Jean-Charles Naouri has these attributes in spades.

It would have been perfectly acceptable, and accepted, for Jean-Charles Naouri to remain in his vaunted position as the youngest-named cabinet director in France, first in Social Affairs (1982) and then in Finance (1984), after graduating from the Ecole Nationale d'Administration – the training ground for all of France's power players – in 1976.

But he didn't. Instead, he took a leap and landed at the influential Rothschild & Cie Banque, where he was hired as a Managing Partner. Not content to limit himself to the opportunities at Rothschild, Jean-Charles Naouri simultaneously established an investment fund, Euris.

For the next few years, Jean-Charles Naouri was learning the ropes in this new financial universe, but in 1991 a new opportunity appeared: the chance to enter the retail world by purchasing a major distributor, the Brittany-based Rallye company.

Jean-Charles Naouri wasted no time, leaving spectators and observers marvelling over his speedy decision to take over the then-struggling retailer. Though he had never before been at the head of a major company, he took a gamble and positioned himself as leader at Rallye. Undaunted by Rallye's financial challenges – which included a serious cash flow issue – Naouri took the reins.

In a move to ridding Rallye of its heavy debts and undertaking a necessary restructuring, Jean-Charles Naouri seized upon an opportunity to merge with the substantial Casino Group in 1992, taking control of the group out of the Guichard family, which had held the company since 1898.

Naouri's strategy skills wouldn't be needed until in another five years, when he was faced with a test that threatened not only him, but the Casino Group entity itself. In 1997, French retailer Promodes would bring the largest-ever threat to the group, as it pushed forward a hostile takeover that shocked the company and the rest of the French business world.

With masterful skill, Jean-Charles Naouri managed to unify the Guichard family and the Casino management team to circumvent this unpleasant takeover, first by putting forth a rival bid from Rallye and then going on the attack, rallying investors through advertising to reject the Promodes effort and securing support for the Casino Group's independence.

Four months later, Jean-Charles Naouri would emerge triumphant, with both sides agreeing to put aside their claims and with a friendly agreement with Promodes to share resources as both companies continued to expand into foreign markets. He also oversaw the agreement whereby Casino would exchange half of its holdings in a Polish supermarket market with Promodes, in return acquiring an equal stake in a Promodes branch in an emerging market.

Jean-Charles Naouri did not settle for this corporate success, and aimed to make the Casino Group even stronger than it had been before. In the late 1990s, he oversaw the acquisition of convenience food store Franprix and of discount food supermarket Leader Price.

In 2005, Jean-Charles Naouri was named Chairman and CEO of Casino Group, where he looked to take the company in yet in another direction. He understood that the strength of the Casino Group brand could also benefit from market diversification, however risky that might be. And so in, he oversaw significant international expansion in a variety of markets, ranging from Argentina, Uruguay, Colombia, and Brazil in Latin America to markets in Asia. Today, Casino Group has close to 13,000 stores around the world.

Earlier in 2000, Jean-Charles Naouri also had the foresight to acquire Cdiscount, an online retailer which initially specialised in the sale of CDs and DVDs. But as Amazon began to establish its dominance in the U.S., Naouri realised an opportunity to go head-to-head with the e-retailer lay within Casino Group's grasp. The by-now seasoned businessman poured resources into Cdiscount, moving away from entertainment and into the sale of household appliances. The site, which was developed with a view to compete with Amazon in the expanse of its offerings, now includes everything from baby supplies to sporting goods and furniture.

With 20 million visitors a month, it is the largest French rival to Amazon, and is aiming to overtake it in the coming years. It is now launching in four countries: Belgium, Germany, Italy and Spain, which makes it Amazon's most serious challenger in Europe.

Meanwhile at home, Jean-Charles Naouri saw an opportunity to further solidify Casino Group's presence in the convenience store sector, and snapped up a 50% stake in Monoprix in 2012, the urban convenience food and goods retailer.

Still looking to position Casino Group as a leader in the sector, Jean-Charles Naouri then saw a strategic opportunity to ink a deal with Britain's Ocado, an online grocer which has recently moved into providing technology for supermarket companies worldwide, so as to go to a breakthrough in direct home delivery, while most of its competitors are still focused on "drive" or click & collect models. Signing an agreement in November 2017, Casino will work to implement robotic technology to be able to meet demand for growing numbers of customers of the upmarket Monoprix brand. Who said retail was the stepchild of innovation?