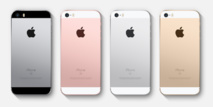 apple.com
Recently, the smartphone has been tested by AnTuTu benchmark. The device was able to surpass its predecessor iPhone 6S, the result amounted to 134 358 points against 129 990 in the "sixth" model. However, the newcomer couldn't beat the phablet: 6S Plus scored 137,420 points.

According to the benchmark, iPhone SE in terms of performance is not inferior to its flagship brothers, which once again confirms the idea that the SE is not positioned as a "budget" iPhone with a corresponding price tag. Recall that the new model has been criticized on the internet immediately after the announcement. Detractors say that Apple likes to rehash, and this time the company took the body from the 5S, and the filling of the flagship 6S.

The media are trying hard to blame Apple for that they couldn't manage to produce a low-cost smart phone. Yet in fact, Special Edition is just a modern stuffing + classic design, which many were missing. Apple's image played a cruel joke once again. Each Apple's announcement by default is expected to be an incredibly revolutionary and changing the world.

One can assume that the SE is meant to replace iPhone 5S in the product line, what seems quite a logical step. The company has no reason to support the old product, which is already attracting very few people, given that 6/6S and 6Plus/6SPlus are on the market. At the same time, fans of classic now may not sacrifice performance, and the company will not have to close the 5S conveyor assembly buildings.

3D Touch support is the only functionality that had to be sacrificed in the new SE.

IPhone SE is stuffed with a 64-bit processor 'A9', similar to iPhone 6S and iPhone 6S Plus, a battery with longer work period, faster wireless connectivity, 12-megapixel iSight camera with Live Photos and video support 4K, as well as Touch ID sensor with support of Apple Pay.

iPhone SE will be available in a metal enclosure colored 'Space Gray', 'Silver', 'Gold' and 'Pink Gold'.

Placing orders in Australia, the UK, Germany, Hong Kong, Canada, China, New Zealand, Puerto Rico, United States, France, Japan and the US Virgin Islands (US) started from March 24, and delivery will begin on Thursday, March 31st.

Many foreign resources have already published reviews of new products, and looks like they are pretty satisfied with the new Apple's smartphone. For instance, The Verge gave the novelty 8.7 points out of 10, while Engadget - 88 out of 100. Some observers have called the SE the best compact smartphone in the world and the best compact Apple's smartphone in particular.