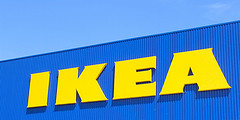 Swedish furniture chain IKEA, which is celebrating its 30 years of presence in US, has announced a raise in minimum wages in all of its stores in the country.

This is the second consecutive year of raise in the minimum wages for IKEA employees. The company announced that it would provide a minimum wage of $11.87 from 1 January, which is a 10 percent increase from its current minimum pay for its employees. The estimated wage will also be around $4.62 above the federal wages. This change will raise the average working wage per hour in IKEA stores to $15.45 from the current $14.19. Around 32 percent of the company's workforce will be positively affected by the hike, according to the company sources.

When compared to last year's wage increase of about 17 percent, this year seems to be not promising much. But when estimated in consecutive terms, this will benefit employees who were part of IKEA for last two years. From last year, IKEA also changed the way it estimates its wages, by taking cost of living in particular cities also into consideration. This is applicable to all the 40 locations IKEA has in the US.

IKEA has joined the ranks of big corporations such as Walmart in wage increase. Though there are still debates on the minimum wages in the US, a national consensus of $15.00 is being pushed forth as an ideal minimum wage. According to IKEA's chief financial officer Rob Olson, the increase announced last year was based on data from the MIT Living Wage Calculator, which was outdated.