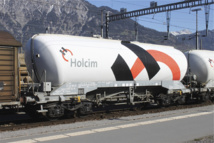 NAC
Lafarge announced that it received a letter from the chairman of the Holcim Board of Directors on Sunday, which states that the French company does not want to follow the terms of the agreement reached in July last year, and disputes the financial terms of the transaction and the management structure of the combined company. This writes
The Wall Street Journal
.com .
The size of the transaction amounted to 42 billion euros, it was declared as a "merger of equals": the company had to exchange shares at the rate of 1 to 1, for that, Holcim had to raise its capital. Now Holcim disclaims exchange in the ratio; Lafarge announced that it is ready to negotiate on this issue.
Holcim shareholders want to change the terms of the merger with Lafarge. The capitalization of the Swiss company has increased significantly since the agreement on the deal.
After the announcement of the deal, Holcim shares rose more than Lafarge's, what, in particular, happened due to the sharp appreciation of the Swiss franc after National Bank of Switzerland's January decision about abolishing the ceiling on the franc against the euro. According to the results of last week, the market capitalization of Holcim was 23.3 billion euro, and Holcim's - 18,6 billion euro.
Last week, several media outlets, including SonntagsZeitung and Financial Times, reported that Holcim shareholders and management want to revise the terms of the transaction. In particular, Thomas Schmidheiny, former chairperson of the board of directors of Holcim, wanted to discuss them again (Schmidheiny family founded the company and is its largest shareholder with a 20% stake).
Holcim in a statement today confirmed that it no longer wishes to pursue the union based on earlier conditions and proposed to revise the share exchange ratio and management. Lafarge, as it follows from the statement of Holcim, agreed to discuss the issue of exchange of shares, but not the other clauses of the agreement.
It was assumed that the deal should be closed in the first half of 2015 and the company has already begun the process of identifying assets that need to be sold to obtain the approval of the antitrust authorities. The second packet size (10%) shareholder Holcim is "Eurocement Holding AG" by Filaret Galchev. "Eurocement" has publicly announced its support of the deal, but close sources earlier told Financial Times, that the businessman approving the merger, as he would have the opportunity to buy the assets for sale.