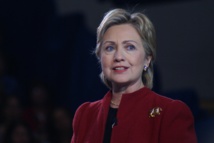 Marc Nozell via flickr
According to the publication, a Russian company Rosatom in 2009-2013 acquired a controlling stake in Uranium One, which owns the rights to develop the large deposits of uranium in Kazakhstan and the United States. In this case, the head of the company, the Canadian Frank Giustra, was closely associated with the couple, and Clinton has repeatedly brought large sums in their fund Clinton Foundation. In addition, hundreds of thousands of dollars to the fund came from Russian banks.
As a result of the deal, Moscow received access to approximately a fifth of the entire US uranium, which is considered as a strategic asset. The paper points out that the final authority to approve an agreement for the sale was the State Department, at the time headed by Hillary Clinton. Meanwhile, Rosatom claims that the main interest for the agency are Kazakhstani fields owned by Uranium One.
The wife of Bill Clinton and former Secretary of State intends to participate in the presidential elections in 2016, what was announced on April 12. She is going to run for the presidency from the US Democratic Party. 67-year-old Clinton starts her campaign with Iowa and New Hampshire, where the first Democrats caucuses will be.
Hillary's running for president because everyday Americans need a champion—and she wants to be that champion. – is written on the campaign's page. 67-year-old Clinton starts with Iowa and New Hampshire, reports Associated Press.
Earlier on Sunday, Barack Obama expressed his opinion that Clinton would be "a great president" of the United States. According to the head of the White House, she copes well with the duties of the Secretary of State.
Hillary Clinton, resigned US Secretary of State in 2013, was considered one of the strongest candidates from the Democratic Party. In September 2014, Clinton hinted at his participation in the presidential election, saying that she is "very concerned about the presidential campaign."
In 2008, Hillary Clinton has already participated in the presidential campaign and was the main rival of Barack Obama within the party. However, at the time, most Democrats supported the candidacy of the current president.
Election of 2016 in the United States is going to be carried out the eighth of November. A candidate for them must be an American with citizenship obtained by right of birth. They must be at least 35 years old and live in the United States at least 14 years of age. The current US President Barack Obama will not be re-elected for a third term in accordance with the 22th Amendment to the Constitution.
To date, Republican Senator Ted Cruz and Rand Paul officially announced the start of the election campaign.
Jeb Bush (brother of George W. Bush), New Jersey Governor Chris Christie, the governor of Wisconsin, Scott Walker, Senators Lindsey Graham and Marco Rubio are also expected to take part in the election.
source: nyt.com