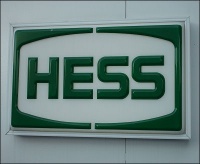 Thestrategist.media – 13 June 2015 – The StreetInsider reports that Hess Corp. Has come to a term of agreement whereby the company will put up a fifty percent sale on "its Bakken midstream assets to Global Infrastructure Partners". The latter is one of the world's leading "infrastructure investor", which has had an extensive record of investments on "midstream energy" which would amount to "$2.675 billion" worth of "cash consideration".

It is going to be a joint venture of both the companies, namely Hess along with "Global Infrastructure Partners", wherein the companies will launch themselves into "a premier midstream joint venture" named as "Hess Infrastructure Partners". The duration of the said venture would equate to a five-year Loan-term, whereby the procedural details and other facility related issues will be "distributed equally to both partners".

Upon its closing the joint venture is likely to "incur $600 million of debt", besides a $3.0 billion "after-tax cash proceeds" along with an independent access to a capital of "$400 million". Furthermore, the report states that:
"The joint venture upon closing plans to continue to pursue a proposed initial public offering (IPO) of Hess Midstream Partners LP common units."

Hess Corporation's C.E.O, Mr. John Hess stated that:
"This transaction delivers significant and immediate value to our shareholders. The joint venture with its strategically located assets will be one of the largest midstream operators in the Bakken. By capitalizing on the financial strength and midstream energy experience of Global Infrastructure Partners, the joint venture will be in a strong position to fund future energy infrastructure investments and continue to grow its midstream business."

Furthermore the company plans to utilise the proceeds of the said transaction to maintain a strong balance sheet in the present scenario of high oil price. In fact, the transaction will place Hess in "a highly advantaged liquidity position" among his peers. Consequently, Hess Corporation will have "financial flexibility" whereby there will the more opportunities for "future growth".

The company lists out its assets which are to be incorporated in the "joint venture", which is likely to meet its completion period by the early "third quarter of 2015", whereby the list includes:
• Natural gas processing plant in Tioga, North Dakota;
• Rail loading terminal in Tioga and associated rail cars;
• Crude oil truck and pipeline terminal in Williams County, North Dakota;
• Propane storage cavern and rail and truck transloading facility in Mentor, Minnesota; and
• Crude oil and natural gas gathering systems in North Dakota.
Hess Corporation will be treating "Bakken-related midstream operations" as another independent "midstream segment" whereby certain extrapolated and historical "financial information" regarding the said segment will be disclosed shortly. At the closing of the financial year of 2014-2015, the net income of this segment amounted to "$27 million", excluding depreciation, taxes, amortization and interests.
However, Hess to maintain control over the "midstream assets' operations and annual budgeting process" pursuant to the agreement of the joint-venture, according to which the six board of directors of this segment will be comprised of three people chosen by Hess and the rest will be selected by "Global Infrastructure Partners", although, any decision regarding "debt, equity, contracts and capital structure among others will require "joint approval" of the elected-partners.
References:
http://www.streetinsider.com/Corporate+News/Hess+Corp.+%28HES%29+Announces+%242.68B+Sale+of+Bakken+Assets%3B+Enters+Joint+Venture/10643647.html