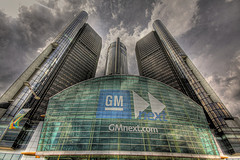 American automobile maker General Motors has planned to invest $1 billion in its Warren research and development campus in suburban Detroit.
The company has long been fighting it out with new technology and Internet companies to hire and retain talent, Forbes reported. Engineers and designers are making a cue to the Silicon Valley, thanks to the open office culture and room for learning. But General Motors is now acutely aware of the discrepancies in the recruitment drive at the hardware and automobile sector. The company aspires to attract the world's best engineers, designers and IT professionals through such investments.
"I firmly believe there is already, in certain disciplines, a war on technical talent," CEO
Mary Barra
told Forbes. "That's that's why I'm such a champion of science and math and STEM. Because if you look – set aside the auto industry for a minute — there isn't a single product we use today that isn't more sophisticated from an electronics perspective, or from a technology perspective."
"When we design vehicles, we use a position called digital sculptors. We're competing with Pixar for those individuals," Barra said.
General Motors has been striving to get a new workforce and since its bankruptcy restructuring in 2009, the company has maintained about 30 percent of new employees.
The 326-acre Warren Tech Center is set to create approximately 2,600 new salaried jobs in areas like product engineering, IT and design. The campus currently employs more than 19,000 employees and plans to bring in more after renovations of office space and product development facilities.
The multiyear project expansion project starts this month and will complete by 2018.A multi-story IT building will be constructed in the campus that could possibly house GM's software recruits. The company earlier announced its intentions to hire up to 10,000 computer professionals.
GM has also been upbeat about investments in the manufacturing plans in the US. The company has announced around $5.4 billion worth of investment in manufacturing plants.
The Warren Tech Center was built in 1956 and designed by world-renowned architect Eero Saarinen and landscape architect Thomas Church. The campus is a National Historic Landmark and considered so for the contribution of GM and the automobile sector to the city of Detroit.