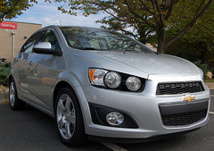 American automaker General Motors has announced that the company is cutting down the production of two of its low-performing car brands - Chevrolet Sonics and Buick Veranos. The company is also planning to gradually lay off about 100 workers from July through the end of the year.

As a direct result of the reduction plan, the company's Orion Township assembly plant near Detroit, Michigan, will see a reduction in the number of cars coming out of the unit. The sales results of the two cars were not impressive as they could not stand out amidst strong competition and cheaper available German cars in the market. Sales data of Sonic through May was down 28.5% from the first five months of 2014, while Verano seems to have plummeted to 15.6% in the same period.

In a public comment, GM spokesman Christopher Bonelli said that the company is "adjusting production capacity to better meet market demand." He did not further elaborate on the current need for stepping down of production or other details relating to this plan. The new layoff plan is in addition to the 160 layoffs GM announced last November at Orion Assembly.

GM invested $545 million in 2011 to rejig the Orion plant especially so it could build the Verano and Sonic. The company previously imported the Sonic from South Korea. The plant currently has about 1,580 hourly workers and 180 salaried positions. GM said the 260 workers to be laid off will be let go by the end of this year.

The assembly line will slow to produce fewer cars though there are no further news on the estimated production rate for this year at the plant.