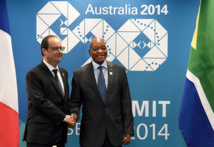 Photo: DoC
According to the newspaper, an employee of one of the departments randomly send private information to its counterpart in the organizing committee of the Asian Cup football tournament. The file contained names, dates of birth, passport and visa numbers of Barack Obama, Vladimir Putin, Angela Merkel, Xi Jinping, Narendra Modi, Shinzo Abe, David Cameron and other world leaders that were attending the summit in Brisbane in November 2014.
The Ministry of Immigration found this case insignificant and even decided not to notify affected politics. As it turned out, the officer responsible of sending the data used the program Microsoft Outlook. Typing the name of the recipient, he did not pay attention to the fact that, due to auto-fill function, the line had quite different address. The organizing committee of the Asian Cup assured that their employees are immediately erased the letter, but just to be sure, and even cleaned the deleted emails folder. As stated in the explanatory memorandum, "the risks of the breach are considered very low."
Meanwhile, the opposition did not miss a chance to remind that, according to the British, German and French law, in case of leakage this kind of personal data, it is mandatory to notify affected people. As noted by Senator from the Australian Green Party Sarah Hanson-Young,
"Only last week the government was calling on the Australian people to trust them with their online data, and now we find out they have disclosed the details of our world leaders."
This is not the first such case. In February 2014, the Ministry of Immigration and Border Protection Australia committed the biggest leak of personal information in the history of the country. One of the officials posted publicly on his website personal data of almost 10 thousand people being in custody. Among them were those who asked for political asylum in Australia and whose cases were pending.
Group of Twenty (G20) is a leading forum for discussion of global economic and financial cooperation. Big Twenty brings together the major developed and developing economies in the world, accounting for about 85% of world GDP. In 2013, the presidency of the G20 was implemented by Russia in 2014, in 2015, it was replaced by Australia, and this year the function is transferred to Turkey.
source:
theguardian
.com