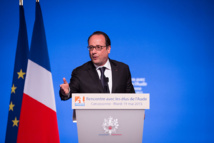 Pablo029
- In the case of the successful negotiations, contracts will be signed for 20 projects worth many tens of billions of euros - said Fabius. The French Foreign Minister added that reaching the agreement for a number of projects "may be very fast."
According to the French minister, the package of projects relates to the cooperation in the field of cross-investment, the scope of the arms, energy, - "especially the use of solar energy, but with the prospect of transition to nuclear power." Laurent Fabius said that the delivery on military technical projects in the case of signing would begin in the next few months.
The French minister also considers possible cooperation between the two countries in the field of civil aviation, the development of transport structures, healthcare. He noted that in these areas, a number of memorandums of cooperation had already been signed. Now, it should lead to the signing of specific agreements.
- Partnership with Saudi Arabia switches to a new speed and displays the results, - said the Minister of Foreign Affairs of France, who is in charge of the international issues and development.
Earlier, French President Francois Hollande and the King of Saudi Arabia, Salman bin Abdulaziz Al Saud, at a meeting in Riyadh, said that the agreement on the Iranian nuclear issue should not destabilize the region and threaten the security of neighboring countries. "France and Saudi Arabia confirmed the necessity to reach a robust, lasting, verifiable, undisputed and binding deal with Iran", - quotes Reuters the text of the joint statement after the meeting.
Earlier it was reported that Iran and BIG6 officially began drawing up the draft agreement on Iran's nuclear program.
Late Thursday after talks in Lausanne, Iranian President Hassan Rouhani confirmed the fact that the agreement on key positions has beem reached. "Solutions on key parameters of Iran nuclear case reached. Drafting to start immediately, to finish by June 30th "- he said on his Twitter.
After an expert inspection from the International Atomic Energy Agency, the Iranian international sanctions will be lifted.
At the same time, President Barack Obama issued a special statement on Thursday, warning that the US sanctions will be preserved in connection with support for terrorism and the violation of human rights.
At the same time, the US president called the agreement "historical."

The positive outcome of the negotiations, which were in jeopardy just a few hours ago, provides a strong argument to supporters of policy on termination of Tehran's isolating and its return to the fold of world politics.
At the same time, it is prematurely to say that resolving of the Iranian nuclear crisis came to happy ending.
The diplomats and experts should achieve the comprehensive agreement until the end of July, and still there is much to be done.
It should be a guarantee that the agreements will be carried out - in fact, only this would put the Iranian nuclear crisis in the final point.
source: reuters.com