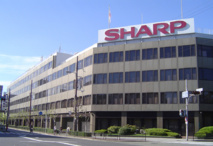 Otsu4
Last Friday, Foxconn's head held eight-hour talks with Sharp's Kozo Takahashi President and other leaders of the company. Previously, the news media mentioned that the Taiwanese side offers for Sharp 700 billion yen ($ 5.98 billion).

The top managers' meeting was concluded with signing of an agreement, which states that the final document will be drawn up before the end of this month. According to Nikkei, the agreement also implies immediate allocation of credit in the amount of 100 billion yen to Sharp.

"Negotiations are completed by 90%", - Terry Gou said after the meeting. According to him, the last step is the legal issues that do not present any particular problems. He also stressed that investment in Sharp will help revive the company.

Foxconn plans to separate Sharp's weakening business for the production of solar cells to ease the company's financial situation. The rest of the Japanese manufacturer will remain in its original form. In addition, Terry Gou has promised to keep the Sharp brand, and not to cut employees under the age of 40 years.

Now, Sharp is going through hard times. The company's net loss for the last reporting period amounted to 24.7 billion yen ($ 209 million), which is two times more than the monetary loss a year ago. Analysts surveyed by Bloomberg expect this figure to reach $ 8 billion yen ($ 67.7 million). For the fifth consecutive quarter, the Japanese vendor upsets market.

Sharp's operating loss was 3.8 billion yen ($ 32.2 million) against an operating profit of 22 billion yen ($ 186.2 million) a year earlier. Quarterly revenue for this period decreased by 13% to 663.3 billion yen ($ 5.6 billion).

At the end of the current fiscal year, which runs until the end of March 2016, the Sharp still expects an operating profit of 10 billion yen ($ 84.6 million) on sales of 2.7 trillion yen ($ 22.8 billion).

Foxconn came to think about investing in Sharp three years ago. In March 2012, Foxconn announced purchase of nearly 10% stake in Sharp for 66.9 billion yen ($ 544 million), but the deal was never concluded because of the rapid collapse of quotations caused the Japanese vendor's poor financial results.

A little while ago, Sharp - the best supplier of Apple - has lost significant market share due to increased competition from LG Display Co Ltd, Japan Display Inc. and other displays manufacturers.