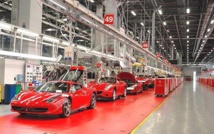 raredelights
Ferrari can start the process of preparation for the initial public offering on October 2, CNBC television reported, citing informed sources. Price range for the shares may be called on October 12. It is expected that the company will make about $ 1 billion once the securities are sold.

Upcoming IPO of the sports car manufacturer was reported in October last year, when Fiat Chrysler Automobiles (FCA), the owner of 90% of Ferrari, unveiled plans to branch Ferrari through IPO. In July of this year, Securities and Exchange Commission (SEC) has received application for Ferrari's IPO from the FCA. The application sets the date for the IPO at the fourth quarter of this year.

Now, according to the US business news channel CNBC, these plans are going to be implemented, and the process of accepting applications for the purchase of IPO shares will begin next Friday. Price range for the shares, according to CNBC, will be named on October 12. According to the head of FCA Sergio Marchionne, the total value of Ferrari is about $ 10 billion. If the company places 10%, as FCA plans, then the IPO volume will be about $ 1 billion. The son of the company's founder, Piero Ferrari, will retain 10% of shares after the IPO. The remaining 80% stake in FCA leadership will be distributed among existing shareholders at the beginning of 2016. Ferrari's revenue at the end of 2014 was $ 3.09 billion, virtually unchanged compared with 2013 year. Net profit for the last year reached $ 263 million.