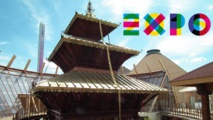 Debora Scapolan via youtube
There is little doubt that Italy, having won the 2008 tender for the World Expo, can make a great show under the slogan "Feeding the planet.
Energy for Life".
According to a Commissioner of Milan Expo Giuseppe Sala, "this is the largest show on the theme of food undertaken in the world of events."
The exhibition itself is not just providing showcases for 145 countries but also demonstrating how their food traditions and new technologies designed according to the concept of the exhibition to provide "energy for life".
It is a platform for discussions, which topics - going from agriculture to environmental sociology food - go far beyond gastronomy.
Arranging turned 11 suburban hectares Pho Fiera designated for Expo turned out to be more difficult, where the rush works continued until yesterday.
The delay in the Italian pavilion, architecturally the largest and most complex, was of particular concern.
Local medias in the first place being critical for his country, literally chronicled the construction of the national booth, boiling over about increasing its budget almost a third, the result of what was extra 92 million euros.
However, speaking to reporters on the eve of the opening of the exhibition, Giuseppe Sala sigh of relief, "all 53 national pavilions are going to open on May 1."
He also stressed that there will be no exception and the pavilion of Nepal that was finished by workers from Bergamo instead of Tibetans that immediately returned home. The pavilion will be the center for the collection of funds for elimination of consequences of the earthquake in the country.
- The catastrophe happened in Nepal tragically reflects the problem of inequality in the distribution of food goods - said Italian Prime Minister Matteo Renzi today during the opening ceremony of the Expo.
He stressed that one of the most important tasks of the Milan exhibition is the search for ways out of the situation when some have problems with overeating and others with hunger.
With EXPO 2015, Italy hopes that investments will grow and eventually the country will find an exit of the crisis.
However, in Italy, there is a lot of those who think it is just a costly glossy event.
And that is why the World exhibition opens on the background of protests.
Two days before Milan was paralyzed by the strike of transport workers enraged with their new contract rules that require them to work in an emergency mode.
In addition, students and anti-globalists protested against Milan EXPO today on the streets of the city.
Also today's La Scala's show "Turandot" by Puccini dedicated to the show's opening was saved from absenteeism only by generous overtime payments for workers, who first refused to work on the day of solidarity of workers
.
source: telegraph.co.uk