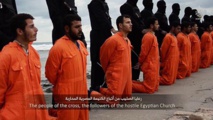 The Ethiopian Government has announced a three-day national mourning in connection with the killing of militants IG group of Christians in Libya, according to Agence France-Presse. In the days of national mourning, national flags will be lowered throughout the country.
IG published video of massacre of Ethiopian Christians in Libya on social networks, according to Reuters. 29-minute video demonstrates two groups of people, one of whom was beheaded on the beach, and the other was shot in the woods. Gunmen killed about 30 people. The agency does not confirm the accuracy of the video, but notes that it is similar to the previous murder by members of the group. The video has a logo of the information department of the IG "Al-Furqan".
The Ethiopian government said that they are not yet able to confirm or deny that some of its citizens were executed by militants in Libya.
- We strongly condemn such crimes, regardless of whether they were killed by Ethiopian nationals - said the information minister of Ethiopia Redwan Hussein to the AFP news agency.
Jihadist groups IG seized part of the territory of Iraq and Syria, and proclaim there the caliphate. According to CIA's estimates, the IG has from 20 to 30 thousand members in Iraq and Syria.
African Union, the EU, as well as a number of countries, including the United States and France have condemned the execution of the Christians.
There is no united front against the IG: government forces of Syria and Iraq are fighting with the group, as well as an international coalition led by the US (so far limited to air strikes), and also Iraqi and Syrian Kurds. Because of the fighting, several thousand civilians were killed and hundreds of thousands became refugees. In addition, several thousand more are being held hostage by the IG.
Today, French President Francois Hollande strongly condemned the killing of a group of Christians in Libya by IG, said a statement from the Elysee Palace.
- The President of the Republic expresses its indignation at the heinous murder of 28 people for their Christian faith committed by IG in Libya - said the communique.
Hollande condemns atrocities and crimes that IG daily committing against the civilian population, regardless of ethnicity or religious beliefs.
- He (Hollande) reiterates its determination to combat terrorist groups and expresses full support for the UN Special Envoy for Libya. The agreement on national reconciliation is urgent and necessary to maintain order and security in the Libyan territory, - noted the administration of the President of France.
source: reuters.com