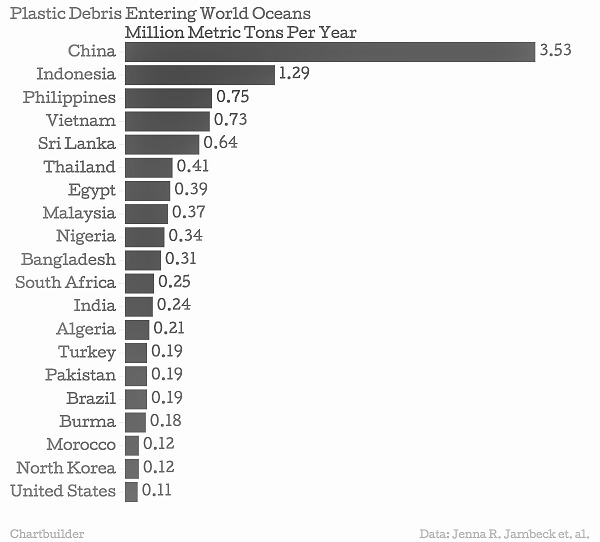 Every year, nearly 8 million tons of plastic wastes are tossed in the oceans worldwide. It is equivalent to 5 bags full of plastic trash that is sufficient to cover every inch of coastlines across the globe. Science journal published that such huge amount of plastics dumped into the ocean is coming from 192 coastal countries based on data which was collected in 2010. The plastic dump can increase at an alarming rate to nearly 4 times by 2025, if steps are not taken to control the dumping.

Since 1970, scientists started discovering plastic islands formed by plastics carried by oceans. These scientists were pretty much aware about the fact that plastic pollution in ocean is a vital issue and this leads to formation of deadly "garbage patches". Great Pacific Garbage Patch, floating over the ocean is almost twice the size of France and is clearly visible from space. Even trillions of plastic pieces are released in the Arctic ice.

Coastal countries are largely responsible for disposing huge amount of plastics into the oceans. A study revealed the list of top 20 countries that are offenders and are responsible for tossing about trillions of plastic pieces in the oceans. The main reason behind it was not only the plastic manufacturers but an inadequate waste management systems. Almost 50% of the plastics flowing in the oceans in the year 2010 came from five countries, China, Indonesia, Philippines, Vietnam and Sri Lanka. China has topped the list by tossing about 3.53 million tons of plastic garbage in the ocean in 2010. Indonesia followed China, adding nearly 1.29 million tons of plastic rubbish to the seas. US accounted for around 0.11 million tons of plastic pollution and ranked 20th in the list. Majority of the list included developing countries, which clearly indicated that faster economic growth in these countries were not accompanied by systematic procedures of waste handling.

The situation will further worsen in future as the study reveals that this number is projected to increase in the future based on estimation of population rise in each country by 2025. Still we are struggling to find out a proper method to deal with alarming plastic pollution. Plastics are originally dumped into rivers and gradually flows to the ocean. It gets accumulated on the sea bed and is eaten up by fishes and sea creatures. The plastic particles absorbs harmful chemicals and poisons the animals consuming them. The study also reveals that nearly 44% of the entire sea birds have plastic pieces inside their body while sea creatures including turtles, fishes and whales gets entangled into the deadly plastic garbage. Micro plastics are considered most dangerous as they life threatening for all sizes of marine animals and easier to swallow. However, it is very difficult to analyse the situation as huge proportion of plastics sinks into the ocean that cannot be taken into account. Few countries does not even have proper waste management systems.

According to the study, in order to reduce 75% plastic pollution from the oceans, waste management need to be improved by about 85% in top 35 offenders. Huge investments are required for development of waste management infrastructural facilities specifically in developing countries. This environmental challenge is completely man-made and can be rectified by reducing, recycling and reusing plastic products.