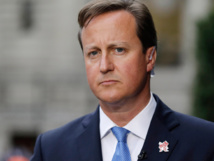 Chingster23
The Prime Minister called for patience and said that negotiations with the EU may lead to favorable consequences for the entire European Union as a whole, not only for the UK.

- Today I will begin serious talks with other leaders on the reform of the EU and the UK to reconsider relations with the European Union - said the Prime Minister.

-These negotiations will not be easy. And they will not be quick. There are different views and differences. But only by hard working together, I think, we can come to some decision.

The so-called "British question" is not included in the agenda of the summit in Riga, where he went.

However, this will be the first appearance of Cameron in the European Union after the election victory. During the election campaign, Cameron promised voters a referendum on Britain's membership of the EU, and now he is going to call other European leaders to reform the European Union, including immigration reform.

The response will be very important in terms of whether there is possible to hold a referendum before the deadline designated by Cameron – the end 2017.

Premier suggests holding a referendum earlier if possible, especially given the resistance by Angela Merkel and Francois Hollande, who do not want such talks to interfere in their campaigns in 2017.

Some politicians and analysts have urged Cameron to take a break and do not rush the negotiations, in case if the speed have an impact on the quality of the reforms that would be needed to change the existing EU system.

When Hollande were asked the question of a referendum in the UK, he shrugged and said, "This is not a topical issue."

Other leaders have more openly expressed their willingness to work with Cameron.

Taavi Rõivas, prime minister of Estonia, said that he is against the restriction of fundamental freedoms in the EU, such as freedom of movement and work, but he remains open to possible changes within the unit, if necessary.

- If we decide what we want to achieve, we cannot definitely say that no change is possible - he said. - But let us first decide what we want to achieve, and only then we will have to think about the measures to achieve.

Helle Thorning-Schmidt, the Danish Prime Minister, congratulated Cameron with his "fantastic victory" in the elections and expressed hope that it will be possible to find a "satisfactory solution for the UK." With regard to the reform of the EU, as well as the possibility that the resulting situation can lead to referenda in other countries, she said: "We need to listen to what Cameron will tell about those changes that they want to make, and act on that basis."