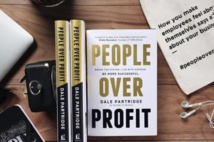 Thestrategist.media – 14 May 2015 – Evan Kirkpatrick, a contributor of Forbes, talks about a "serial entrepreneur", Dale Partdge's visions which he penned down in his newly published book titled: "People Over Profit", wherein the author gives a new perspective to an old idea: "It's not personal; it's just business."

The phrase is familiar in the business world; as a result the same remains "ingrained" into the mindset of business associates, yet Patridge questions that:
"Ask yourself, what are you doing simply because of tradition?"

While, Kirkpatrick heralds the book "People Over Profit" as "the playbook from a successful entrepreneur" which journeying through the author's "radical business philosophy" contests "capitalistic norms". It also reflects the trying times an entrepreneur undergoes while "trying to build something remarkable" including the deprivation of sleep, the emotional tiredness, and other such deep "trenches".

Though not an "ideal manifesto", yet the said book provides a "well researched" perspective, a unique one indeed that can only come from an experienced person who has successfully "built something exceptional". In fact, the company, named Sevenly, which was founded by Patridge, "donate" $7 on every single item purchased to a wide range of social "worthy causes". Likewise, Sevenly has, so far, contributed an approximate sum of $ 4.2 Million from its revenue that amounts to "over $25 million".

Interestingly, the said book introduces a "twist" whereby it recounts the period of the author's life when he actually got "fired from the company". This particular feature distinguishes it from any other books on the insights of a company's founder. However, the question to ponder over is on what basis did the founder of the company get fired. In fact, in similar tone Kirkpatrick echoes:
"Fired? For building a company up to nearly 50 employees, donating millions to charity, and building a brand consumers love and a place employees love to work?"

As luck would have it, the founder of Sevenly was "fired from his own company", the details of which has been "transparently" noted down in the pages of "People Over Profit". Dale praises Sevenly in his book, wherein he constructs his thoughts by "weaving in examples of things" he did along with the staff of Sevenly in order to establish an in-house culture of generosity which would complement the company's outward kind act of "donations".

Kirkpatrick praises Dales selection of companies such as Ford, Google and McDonald to illustrate the concept of "The 4 Eras Of Organizational Behavior" wherein Dale stresses on the point that under the pressure of the shareholder for growing performances, often companies compromise on their "good intentions" with which they had begun.

Kirkpatrick writes that Dale's reason behind writing the book was that he did not want the past patterns "to dictate the future of capitalism". Unlike many "business leaders" of today, Dale fearlessly states the truth behind company policies that he feels should undergo change. Furthermore, he adds:
"When did we decide to separate business and personal?... Companies have to have security escort employees out of the building because of the way they fire people".

In Dale's view the futuristic C.E.O or the 'next generation of C.E.O's' could profit from the book wherein it instructs on:
"... being a more mature leader. For example, how about adding the 7 key metrics from the book as a culture or leadership dashboard... How much more money is the company making because people are happy and transparent? What has that done to sales and conversions? That's the next generation of CEO's... It's impressive when people can generate wealth and be loved by the people around them."