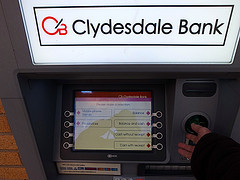 Scotland-based Clydesdale has been fined $40 million by Britain's financial ombudsman due to its involvement in the PPI scandal.

The fine is the biggest ever handed out by the Financial Conduct Authority in relation to the payment protection insurance (PPI) scandal, for which banks in Britain have to set aside more than £24 billion to compensate customers. The authority has flagged off serious concerns in transactions that occurred between between May 2011 and July 2013 at the bank which is currently owned by National Australia Bank.

It is alleged that the bank provided false information to the Financial Ombudsman Service in response to requests for evidence of the records it held on PPI policies sold to customers. A team within Clydesdale's PPI complaint handling operation altered records in a small number of cases to make it look as if the bank had no relevant documents and deleted information listing the products sold to some customers.
"The fact that Clydesdale misled the Financial Ombudsman by providing false information about the information it held is particularly serious and this is reflected in the size of the fine," Georgina Philippou, acting director of enforcement and market oversight at the FCA, said.

In Britain, Clydesdale is the third bank to be fined for failings in its complaint handling procedures. Lloyds was fined £4.3 million in February 2013 and the Co-operative Bank was fined £113,000 in January 2013.
The company has provided an official statement noting that it is regretting any instance which led to the Financial Ombudsman Service receiving incorrect or incomplete information. These practices were not authorised or condoned by the bank, the statement noted.

Clydesdale set aside another £420 million for PPI compensation in October last year, taking the total amount it has set aside to £806 million. NAB meanwhile has gone on record that it was looking at ways to exit the UK market after several years of poor performance.