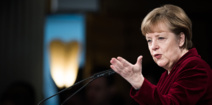 Tobias Kleinschmidt
According to deputies, the government refuses to provide the parliamentary committee a list of objects for which the representatives of the German intelligence monitored by the NSA request. As explained by the publication, if at the surveillance, requested by the NSA, was conducted without the permission of the parliamentary commission, it witnesses the violation of German law on special services.
It is also noted that because of the scandal, the powers of the Federal Intelligence Service of Germany could be severely reduced.

Previously, the newspaper Sueddeutsche Zeitung, TV and radio stations NDR and WDR, citing data from WikiLeaks reported that the United States spied on three German Chancellor - Helmut Kohl, Gerhard Schroeder and Angela Merkel, and a number of members of the federal government, espionage lasted for at least from the 1990s. The espionage is carried out in accordance with a certain list, which listed thousands of criteria to search for information - IP-address, phone numbers, accounts in social networks, e-mail domains. This list is available to the Office of the Federal Chancellor Angela Merkel, which coordinates the work of the security services.

The head of the parliamentary committee of the Bundestag, which is investigating the espionage scandal in Germany, Patrick Sensburg, said in turn that the surveillance of the German citizens by the US NSA was conducted until 2012, contrary to the cooperation agreement concluded between the intelligence agencies of both countries.