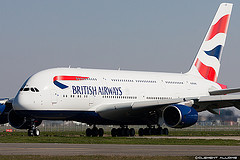 UK Aviation company British Airways has announced that hackers have accessed the frequent flier accounts of the company.
Around tens of thousands of accounts have been affected. The company announced that though the accounts have been hacked, no personal information has been viewed or stolen and they have frozen those accounts for next two-three days.
Until there is a resolution, the top executive club fliers may not be able to use their air miles. The company has also pointed out that only a small proportion of its customers have been affected and the backup system would soon be running.
Though it is not immediately clear who hacked the system, it is now known that the hacking was administered by an automated computer program.
The statement from British Airways noted, "This appears to have been the result of a third party using information obtained elsewhere on the internet, via an automated process, to try to gain access to some accounts. We would like to reassure customers that, at this stage we are not aware of any access to any subsequent information pages within accounts, including travel histories or payment card details."
The company was already under fire for having revamped its airmiles program this year. The company resorted to cutting down the number of air miles points it will award passengers buying its cheapest economy class tickets.
Reference:
http://www.dailymail.co.uk/travel/travel_news/article-3016662/Hackers-target-BA-customer-accounts.html