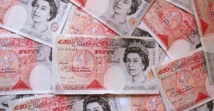 Images Money
It is planned to publish about two million of these notes.
Issue of plastic money is dedicated to the 125th anniversary of the bridge over the Firth of Forth.
William Arrol, an engineer and creator of this facility, whose company had built the outstanding piece of engineering 125 years ago in the east of Scotland, is depicted on the bill.
Scottish bank's emission is a trial balloon in the nationwide project of switching paper to plastic, which the Bank of England announced last year and which is scheduled for 2016-th god. Limited circulation of new banknotes have already entered to Clydesdale's branches.
The first plastic banknotes were issued in Australia in the late 1980s.
At the moment, such kind of notes is used in more than 20 countries, including Israel, New Zealand, Canada and China.
New banknotes are made out of expensive polymeric materials, yet they serve 2.5 times longer because they are resistant to moisture and dirt.
De La Rue, the largest British manufacturer of the securities and secure documents (passports, driving licenses, etc.) is the current contractor of the Bank of England, licensed to reproduce paper pounds up to April 2015 year.
Negotiations to extend the license for the next ten years were held in conditions of severe competition.
De La Roue was able to retain the contract for the printing of paper pounds, but it had to face the unprecedented activity of competitors, such as tandem British company G4S and French Oberthur Technologies.
During the past year, the company has experienced a number of severe shocks, which resulted in the market price of its shares fell by half, but the message that it has signed a contract with the Bank of England led to an immediate increase in their prices by 3.7%.
According to the official press release, the first principle solution under the new contract will be the replacement of small paper bills by plastic ones.
It is noteworthy that the company De La Rue itself produces paper for notes, and the transition to plastic was not easy for it.
Last year it lost a competition for the production of polymer paper and as a result was forced to spend nearly a million pounds to buy the Australian company Innova, which won the competition
.