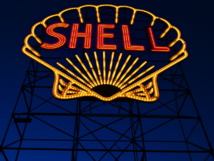 wikimedia
Royal Dutch Shell has published a financial report for the third quarter of 2015, which was much worse than analysts' expectations. According to the press release, the Anglo-Dutch oil company completed the reporting period with a loss of $ 6.1 billion, compared with $ 5.3 billion of net income, obtained a year ago.

The profit fall at 216% is primarily caused by the protracted period of low oil prices that forced Shell to abandon a number of expensive projects. Among them, for example, development of deposits on the Arctic shelf of Alaska and Canada. The exploration company announced rejection of the Arctic project in late September. The entire program is estimated at $ 7 billion, but the decision to refuse it was made after drilling the first well, which cost the company a record $ 2.6 billion. Another $ 2 billion write-downs came to the project in the west of Canada, on the decommissioning of which Shell announced a few days ago. The total amount of write-downs in the third quarter was $ 7.9 billion. Without the losses, the company would have been to finish the reporting period with net profit of $ 1.77 billion, which is 70% worse than last year's data. However, in any case this result is much worse than analysts' forecast: experts, interviewed by Bloomberg, predicted earnings net of one-off factors on the level of $ 2.92 billion.

- While performance of our cash flows and level of production in this quarter are high enough, the end of today's figures include data, reporting significant losses, - said General Director of Shell Ben van Berden.- They reflect the low prices for oil and gas and disappointing forecasts, as well as our steps to revise and reduce the long-term Shell's opportunities.

In March, Royal Dutch Shell announced impending reduction of at least 250 jobs in its oil and gas production facilities in the North Sea. Low oil prices have become the main reason for these reductions. The number the downsized consists of Shell employees themselves and contractors working in Aberdeen and offshore platforms. Total in the North Sea, the company employs about 2.4 thousand people, and thus, the reduction is about 10%. Other workers will have to work longer. They will be transferred to a three-week schedule when they spend three weeks at sea on the platform and three weeks - on the coast.