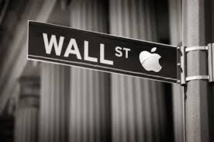 Last week
an announcement by the committee that determines the composition of the Dow Jones industrial average said that AT&T has been replace by Apple in the 30-stock index. Naturally this has triggered mass of competing headlines that asses the impact, newsworthiness and importance of such a move. Regardless of the public opinion on the new line-up, what is pretty clear is that from an earning point of view, the Dow image looks spiffed up.
Although projected earnings for the Dow's 30-stock index looks pale for the first quarter of this year, things start improving when you factor in Apple's expected sales. John Butters, senior analyst at FactSet, expects Dow earning to head southwards by almost 11.1% in the beginning of April. If Apple would not have replaced AT&T, we would have been staring at 15.3% instead of 11.1%. This holds true for the rest of this financial year as well. Apple's projected earning are likely to stave off the expected decline from the Dow's 30-stock index.
If this decision would have been taken earlier, the Dow's declining growth rate would be affected by 1.4% instead of its current 4.2%. Even if Apple's projected growth rate stood at 24%, it will be insufficient to get the Dow out of the red.
The decline in global oil prices have consequently reduced the profit expectations of Exxon Mobile and Cheron, which have largely contributed to the Dow's negative slide.
Butters predicts that the benefits of adding Apple to Dow's 30 stock-index is likely to wear off in the fourth quarter of this financial year. Having sold more than
75 million
iphones in the fourth quarter of 2014, Apple is likely to face tougher comparisons in the same quarter in 2015. Added to this are Apple's projected earnings which are set to rise by 3.5% in 2014 (calendar year), which is pretty close to Dow's expectation with AT&T aboard its 30 stock-index.
With a market capitalization of more than $700 billion, Apple has, in the past managed to surprisingly surpass its projected earnings. Analysts remain muted to see how the market takes in the Apple watch which has just been launched. With the launch of its watch, the average estimate for 2015 inched up by 0.6% last week pushing its share price by $8.60. As per the predictions of several analysts its share price is not inflated since the successful launch of the watch has already been factored into it share price.
Having hit a high of $133.60 in late February, Apple shares closed at $123.59. Which position Apple as the 6
th
most influential component in the Dow 30-stock index, just behind Boeing, IBM, 3M, Goldman Sachs Group and VISA.