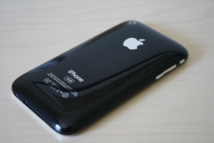 William Hook via flickr
LinX photomodules have way smaller counterparts than offered by other popular manufacturers.
It is worth noting that the latest development of the company is a module that is able to enhance the coloring to create a background blur.
Also the gimmick is able to shoot with the effect of displacement and also make 3D-pictures.
Another important small camera's function is the focus adjustment, which can be carried out right after the shooting.
Developers used simultaneously four photo sensors brought together.
Thus, it turns out that a new iPhone model will be able to take pictures of an entirely different level due to the compactness of the camera and its new features.
According to press reports, Apple is planning to build new modules not only in tablets and smartphones, but also in laptops.
By the way, let us note that the transaction value is estimated at $ 20 million.
This is not Apple's first measure to be taken in order to improve the quality of mobile devices' pictures.
In early spring, the company has patented a mobile camera with three sensors, which are essentially zoom lens.
Developers said that such a camera could be built in anywhere: iPhone, iPad, Mac, and even televisions.
Semi-professional camcorders and portable models use this kind of cameras to improve the image quality, but this technology has not been applied to mobile devices before.
It should be noted that smartphones with the main camera, which includes several modules, are no longer a novelty.
Last year, HTC introduced the Duo Camera, and Huawei showed a slightly different solution too.
Now it's anybody guess whether dual camera on the iPhone will appear in the next generation, or we will have to wait longer.
There are also rumors that a new iPhone 7 will be released this summer. It will be a "full-screen" smartphone with 12-15 inches diagonal.
In addition, the new product will have more internal memory and a gesture set function Force, as well as an advanced DSLR format camera created in collaboration with LinX.
Apple's surprises are not over here.
A presentation of the new operating system IOS 9 will be held together with the release of iPhone 7. The beta version of the OS will be available simultaneously with the start of the smartphone's sales of, so that many users will soon be able to try out Apple's technological novelties.
Previously it became known that iPhone 7 will be assembled at Indian factories, but given that the construction works just started, the new product users definitely will not see the inscription «Design in California Assembled in India» inside.
source: businessinsider.com