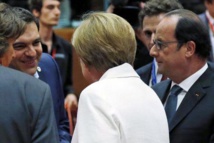 After a strenuous all night session, Greece has finally clinched an agreement with the leaders of the Eurozone. The bankruptcy that was staring at them in the face, has receded by a step. Eurozone leaders have agreed for a third bailout package after going through a series of cliff hanger negotiations at an emergency summit.
However, it is way too early to say that Greece is in the clear: its largest creditor Germany has put forth strong terms for its bailout. These will certainly act as pressure points for Prime Minister Alexis Tsipras and could even fracture his frail government. What will be crucial for Prime Minister Alexis Tsipras is how he sells the reform to the citizens of Greece, given their 'NO' referendum.
With its banks closed and the use of its ATMS rationed, Greece was staring at an economic wipeout. If the emergency summit talks had failed, Greece would have had to print its own currency, exit from the monetary benefits of the European Union and naturally exit the European Union itself.
"The agreement was laborious, but it has been concluded. There is no Grexit," said European Commission President Jean-Claude Juncker. he rubbished the the suggestion that Tsipras had been humiliated by this agreement. "In this compromise, there are no winners and no losers," Juncker said. "I don't think the Greek people have been humiliated, nor that the other Europeans have lost face. It is a typical European arrangement."
Prime Minister Alexis Tsipras, who had been elected just five months ago and had promised to end five years of suffocating austerity, insisted he and his colleagues had "fought a tough battle" and have had to make difficult choices.
By clinching this deal, Greece has won conditional funding which will see it receive Euro 86 billion spread over 3 years. Along with this, it has also won an assurance that start discussing on restructuring its debt, subject to parliamentary approval.
Angel Merkel, Germany's Chancellor and Greece's largest creditor said that she would recommend "with full confidence" that the Bundestag authorise the opening of loan negotiations with Athens once the Greek parliament has approved the entire programme and enacted the first laws.
In signs which go to show how hard it must have been for the Alexis Tsipras to convince his colleagues to take the deal, Panos Skourletis, Greek's Labour Minister, said the terms of the agreement were unviable and would possibly lead to new electiions.
Having clinched an agreement, Tsipras have to now get a stronger grip on it by passing a series of legislation through his parliament and convince his partners to the deal that he has made, so as to not block the release of funds and avert the very real possibility of bankruptcy.
Greece will now face spending cuts, pension reforms, tax hikes and a host of other measures designed to bolster the economy and put it back on its feet. These reforms will have to be enacted by his parliament so that funding by his EU partners can begin.
One of the toughest condition for the Greek Prime Minister had to swallow, to avert bankruptcy, was Germany's insistence that Greek's state assets worth Euro fifty billion be placed in a trust fund which is beyond the reach of the government; these will be gradually sold off with the sale proceeds paying off its debt.
Alexis Tsipras has his work cut out for him - he will have to pass a huge number of legislation in just three day and to help him do so he is reportedly ready to sack dissident ministers and law makers so as to save Greece from the precipice of bankruptcy.
References:
http://uk.reuters.com/article/2015/07/13/uk-eurozone-greece-idUKKBN0P40FR20150713