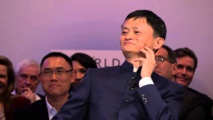 youtube
Daniel Zhang, succeeding
Jonathan Lu
, who will remain vice chairman of the board of directors, is going to become the new Executive Director starting from May 10.
The agency notes that the change of CEO was announced after the sales report has shown the rise in sales in the first quarter of 2015 jumping up to $ 2.8 billion.
Sales exceeded analysts' forecasts, which resulted in a sharp jump in the value of the company.
Net profit of China's largest Internet company by the end of fiscal year 2014-2015 has increased by 4.65% compared with the previous year - up to 3.896 billion dollars, the report says the company.
Earnings per share was $ 1.56, compared to about $ 1.61. Alibaba's revenue amounted to 12.293 billion dollars, which is 45.1% more than in the previous period.
For the fourth quarter of fiscal year, Alibaba reduced net profit by 47.8% - to 467 million dollars. Earnings per share were $ 0.18, compared to about $ 0.38 a year earlier. These were below analysts' forecasts of 0.42 dollars in profits. Revenue for the quarter jumped 44.8% to $ 2.811 billion.
- Alibaba displayed great results with a significant increase in core operating performance. We increased revenues, gross sales and the annual rate of active buyers and strengthened leadership in the mobile business, - said the CEO Jonathan Lu in the press-release
Earlier this week it was reported that a famous Chinese online retailer Alibaba is developing its own service, which will be the largest search platform in China for direct import of goods. This was reported by Bloomberg, citing the company's statement.
This platform will operate on the basis of an existing site 1688.com, which specializes in wholesale purchases and allows sellers to look for products of international brands. The official launch of the service is scheduled for May 18.
The report of the company shows that Spanish brands are going to be presented there for the first time. Also Alibaba plans attracting companies from Portugal, Italy and South Korea. According to the company, in the future, importers can provide additional services, including customs clearance, logistics services, etc.
Cross-border business plan will contribute Alibaba trade facilitation between retailers in different countries and lower prices, experts conclude.
Alibaba Group is a Chinese holding company operating in the field of e-commerce. Alibaba owns the largest services Alibaba.com, Taobao, Tmall, Aliexpress, eTao and cloud service Aliyun. The company also has mastered the payment system Alipay and developing business in logistics, Internet TV, mobile messaging, social networks and the entertainment industry.
source: reuters