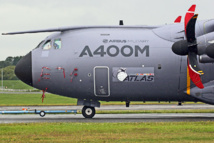 Curimedia
- We will not suspend our own flight test program, - said the representative of Airbus.
Earlier, the suspension of operations of these aircraft was announced by the German authorities, as well as the UK, Turkey and Malaysia.
France, unlike others, one of the few countries that not going to renounce further testing and equip its Air Force military transport with aircrafts A 400M, one of which crashed in Spain during a training flight for unknown reasons before.
This was announced by Head of Press and Communications French Air Force Colonel Jean-Pascal Breton.
- We do not ignore the security environment, but we have no reason at this stage to stop the equipping of the (aircraft) fleet, - said Breton.
Before, the official representatives of the Air Forces of Germany, the UK and Turkey said that the military leadership of the country decided to stop the test of the A400M until the completion of investigations into the causes of the crash in Spain for security reasons.
Recall that military transport plane A400M crashed on Saturday, May 9, near Seville Airport.
It was the first crash of the newest aircraft, which began to come into service of NATO in 2013.
Spanish employees of the company Airbus were on the aircraft's board.
According to the Ministry of Emergency Situations of Spain, four crew members were killed as a result of the accident, and two others were injured, one person is considered missing.
The machine performed a training flight and, according to the manufacturer, was meant to be used in the Turkish army.
Official representatives of the Turkish defense industry confirmed that the plane had to be delivered in July this year.
Overall, Ankara signed an agreement for the purchase of 10 A 400M by 2018.
Two of them were taken in the past year, two more have been received this year.
In general, the first military transport aircraft became to serve the Air Force in France in the summer of 2013.
Since then, several countries have placed their order for the planes.
In particular, Germany has ordered 53 of these aircraft, France - 50, Spain - 27, UK - 22. Seven NATO member countries, in particular Germany, France, Spain, UK, Belgium, Luxembourg and
Turkey are involved in its development and mass production.
Airbus Military expects to export 400 items of A400M aircraft in the next 30 years.
The manufacturer has already received an order for 174 aircrafts from Europe and Malaysia.
A-400M is equipped with four turboprop engines and can carry cargo weighing up to 37 tons at a distance of 3.3 thousand km.
Before the start of serial production, the aircraft experienced several lengthy delays due to technical problems, which is why the production budget has increased by 6.2 billion euros, that is, 30%.
Airbus A400M project appeared in 2003.
The cost of development is estimated at 25 billion euros.
Industrial production of the aircrafts started in 2011, and the regular operations - in 2013.

source:
afp.com