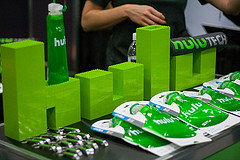 American wireless carrier company AT&T has announced a partnership with video streaming service Hulu.

The company announced that its users will be able to access the Hulu streaming video service on its website and mobile app starting later this year. The service will be currently available only to AT&T customers who subscribe to Hulu. Besides viewing their favorite content with the Hulu app, users can now be able to view Hulu content on AT&T's app and website as well. The No. 2 wireless company already has an existing library of videos such as those from video maker Fullscreen in its app as well as the website.

Fullscreen is one of the biggest networks on YouTube and is majority-owned by Otter Media, a joint venture between AT&T and Peter Chernin's The Chernin Group. AT&T had been partnering with streaming content makers such as Hulu and Amazon Prime Video to bring online video to users. The company has also been bundling video content with its Internet packages and pay TV packages.

Verizon Communications, the leader and rival of AT&T in the carrier market, also announced plans to launch a mobile video service soon. The company planned to diverge into mobile streaming service after its successful bid for AOL.

AT&T is also considering bringing a Hulu app to TV with the company's $49 billion deal to buy satellite TV provider DirecTV currently awaiting regulatory approval. The company is optimistic that the deal will be approved this quarter and through the acquisition, the company plans to bundle phone Internet and TV services and offer new packages.