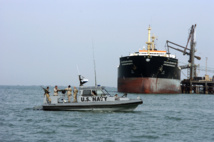 U.S. Navy photo by Mass Communication Specialist 2nd Class Kirk Worley
In the first week of January, the American Enterprise Products will ship 600 th. barrels of oil produced in Texas from the terminal in Houston. Thus, it became the first company in the US, having concluded an oil exports contract after lifting the ban set by Congress.

"We are pleased to announce our first contract to export crude oil from the United States. According to our data, this can be the first export shipment of oil from the US Gulf of Mexico for nearly 40 years,"- said Chief Operating Officer of Enterprise Products Jim Teague. As pointed out in the press release, Enterprise believe that lifting the ban on oil exports will contribute to economic growth and job creation in the United States, as well as enhance the country's energy security.

According to The Wall Street Journal, which refers to the Enterprise, the company signed a contract with Dutch Vitol Group. The first batch of oil will be delivered to a refinery in Switzerland. From there, diesel and other fuels will be supplied in the Nordic countries.

December 16, the US Congress approved lifting of the ban on oil exports from the United States. It was legislated in 1975 after the oil crisis of the early 1970s. At the end of last week, US President Barack Obama signed the draft budget for 2016, envisaging abolition of the oil export ban.

According to Reuters, Barack Obama was opposed to this measure. However, the approved bill gives President an opportunity to put a veto on exports once again under one of two conditions - a state of emergency in the country, or the administration decision that fuel shortages and rising gasoline prices threaten US national security.

Experts believe that lifting the oil exports will not have a major impact on world market prices. Analysts say that main possible consumers of the light American oil will be northwest European and Mediterranean refineries. Some of them are adapted for receiving light oil, which previously came from Libya.