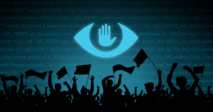 Alec Perkins - https://thedaywefightback.org/img/social3.jpg
US is obviously concerned about the threat that potential cyber criminals may create.
- Today I signed a decree that provides new powers to respond to threats from cyber criminals, threatening the security of the country - the White House representative said.
As noted, the decree allows the Minister of Finance, together with the Attorney General and the Secretary of State to impose sanctions on individuals or entities that are involved in malicious cyber activities and pose a serious threat to the national security, foreign policy, the economy and the financial stability of the United States.
Let us note, that on 2 January, it was reported that Barack Obama signed a decree on the establishment of sanctions measures against members of the government of the DPRK, which supplemented the responses of the administration of US President to cyber-attacks by hackers from North Korea on Sony Pictures Entertainment corporation in November
- December 2014.
It is reported by RG.
The scandal took place on the eve of the release of the studio's new film, "Interview", which describes the fictional story of the assassination of North Korean leader Kim Jong-un.
After North Korea condemned the film, and a number of American cinemas refused to show fear of retaliation by hackers, Sony delayed the premiere.
However, when President Obama that said the company made a mistake, Sony changed her mind and still released the film in a rental.
There were no protests in the United States on this issue, and critics rated it unfavorably as a whole.
Despite the fact that independent experts doubt the involvement of North Korean hackers to attack servers American Corporation, Washington has decided to take steps to "pacify Pyongyang."
- We are very serious about the threat from North Korea, which tried to damage the US economy, scared artists and deny their right to express their thoughts freely.
The measures taken - this is only the first step, - said White House's spokesperson Josh Ernest during a press conference.
In addition, the representative noted that the actions of the United States were directed against the "repressive, destabilizing and provocative actions of North Korea and the policy of this country."
As it turned out, the US sanctions affected high-ranking officials of the North Korean government, government organizations and agencies.
In addition to the ban on crossing the US border, these organizations and individuals will not be allowed to use economic and financial mechanisms and institutions of the United States.
At the same time, in the US, many people believe that in fact, the attack was fabricated on American soil, and probably former employees of Sony Pictures were involved.